Ashbone Tundra is a location introduced in Dragons: Rise of Berk.
Official Description
"This remote island was once covered by a lush forest, but its Singetail inhabitants have reduced the land to little more than ash and dust."
Geography
Ashbone Tundra was once covered with lush greenery, before Singetails blazed it to the ground, thus, its namesake.
Appearances
Games
Unlocked at Level 80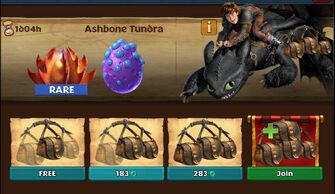 Time
1d 4h
Cost of First Bag
183
Cost of Second Bag
283
Dragons Found
Singetail
Raincutter
Runes
110
Fish
10,000,000
Wood
10,000,000
References