"It's my betrothal gift to Astrid. It means that we'll be together forever."
―Hiccup
Hiccup Haddock gives this necklace to Astrid Hofferson as his betrothal gift to her in the episode "Sandbusted".
History
It was initially a betrothal gift from Stoick to Valka. Stoick later passes it down to his son, Hiccup, to give it to his girlfriend, Astrid.
Design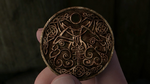 The necklace has the face of a Viking on the left side and the face of a dragon on the right. Due to age, the pendant itself appears to have rusted.
Appearances
Trivia
The first time this information was released was in an exclusive clip on the Rise of Berk Facebook page.[1]
This is the second item to be passed down from Valka to Hiccup, via Stoick. The first being Hiccup's Viking Helmet, and now the betrothal necklace.
Hiccup gave Astrid the betrothal necklace six moon cycles after their betrothal was first announced. This means that they have been engaged for six months by the time of "Sandbusted".
References
Objects of