Caldera Cay is an island that served as the headquarters of the Defenders of the Wing.
Official Description
"Situated under the shadow of a dormant volcano, Caldera Cay serves as the headquarters — and a place of worship — for the dragon-revering Defenders of the Wing. As with most islands, Caldera Cay still exists due to the delicate balance achieved by its geothermal activity and the dragon the Defenders exalt above all others: The Eruptodon!"
―Hiccup's Map from Race to the Edge
Geography
Caldera Cay is an island with a dormant volcano at its center. The volcano is dormant because of the actions of the Eruptodon dragon, who eats lava and magma. Possibly because of the rich soil base from volcanic ash and rock, the island is lush with vegetation. There are many stone structures on the island, built by the Defenders of the Wing.
Appearances
Following a meeting with Dragon Hunters' chieftain Viggo Grimborn, Hiccup spotted the island on a map of Viggo's truce. Hiccup suspected there was something there Viggo did not want to be discovered him and his riders. Hiccup and his riders then went to Caldera Cay. However, after their landing, they were then captured by the Defenders of the Wing. They were then brought before Queen Mala and her second in command Throk.
This episode continues where "Defenders of the Wing, Part 1" left off - the Dragon Riders must prove their innocence of not working for the Dragon Hunters to Queen Mala, and get back the stolen Eruptodon.
While Hiccup and Heather are out looking for Dagur the Deranged, Snotlout remains on Caldera Cay to undergo a series of challenges to see if he would be the next King of the Defenders of the Wing.
Hiccup and the Dragon Riders must figure out how to get the Eruptodon's egg into the center of the volcano when she is too weak to do it herself. The volcano starts to become active and threaten the Defender of the Wing's village. Along the way, they discover Fire Terrors, a type of Night Terror that lives inside the volcano.
Games
June 15, 2017 - June 18, 2017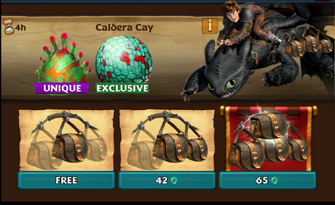 Time
4h
Level Unlocked
All
Cost of First Bag
42
Cost of Second Bag
65
Dragons Found
Pestbud
Slushclaws
Trivia
A "Cay" is actually a type of flat island created by sediment deposition on a coral reef, such as the Florida Keys (or Florida "Cays"). Caldera Cay is actually not a cay island, but one of volcanic origin.
"Cay" is pronounced with a long e sound.
References