The Cliff of Eternity is a location on the Meathead Islands and is unlocked in Dragons: Rise of Berk.
Official Description
"This exceptionally tall cliff is located on Meathead Islands. Before dragons could fly them to the top, Vikings believed that it was so tall it reached Valhalla."
Geography
Situated on the Meathead Islands, this cliff is extremely tall.
Appearances
Games
Unlocked at Level 24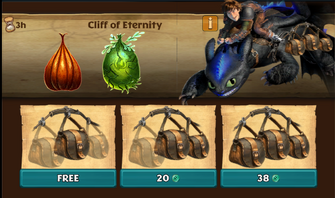 Time
3h
Cost of First Bag
20
Cost of Second Bag
38
Dragons Found
Timberjack
Snaptrapper
Runes
13
Fish
12,500
Wood
12,500
References