The Cliff of Forever is a location unlocked in Dragons: Rise of Berk.
Official Description
"This island still holds too many secrets."
Appearances
Games
August 31, 2014 - September 01, 2014
Time
5h
Level Unlocked
7
Cost of First Bag
70
Cost of Second Bag
160
Dragons Found
Thump
Raincutter
July 08, 2016 - July 11, 2016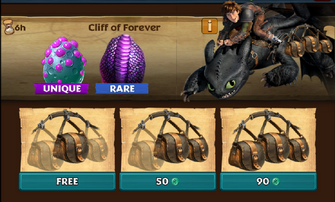 Time
6h
Level Unlocked
All
Cost of First Bag
50
Cost of Second Bag
90
Dragons Found
Thump
Stormcutter
April 24, 2017 - April 27, 2017
References
The Barbaric Archipelago of
Lands undocumented in the Map
School of Dragons (Island)
Ad blocker interference detected!
Wikia is a free-to-use site that makes money from advertising. We have a modified experience for viewers using ad blockers

Wikia is not accessible if you've made further modifications. Remove the custom ad blocker rule(s) and the page will load as expected.