Dead-End Island is an island introduced in Dragons: Rise of Berk.
Official Description
"This Island's rocky shoreline makes landing a boat nearly impossible. Wild Dragons have found its lack of Vikings enticing making it the perfect place for them to relax."
Geography
Bordered by a rocky and shallow coast, which prevents Vikings from docking here, hence giving it its name, this island is void of human life.
Appearances
Games
Unlocked at Level 88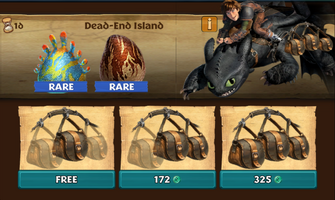 Time
1d
Cost of First Bag
172
Cost of Second Bag
325
Dragons Found
Snifflehunch
Thunderclaw
Runes
105
Fish
7,100,000
Wood
7,100,000
References
The Barbaric Archipelago of
Lands undocumented in the Map
School of Dragons (Island)
Ad blocker interference detected!
Wikia is a free-to-use site that makes money from advertising. We have a modified experience for viewers using ad blockers

Wikia is not accessible if you've made further modifications. Remove the custom ad blocker rule(s) and the page will load as expected.