Dragon
Talk

1
624pages on
this wiki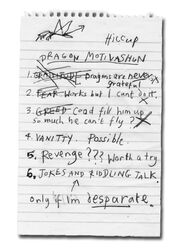 Dragons
are a powerful reptilian species with two distinguishing characteristics: flight and fire production (although not all dragons have both/either). Most species have a fear of eels, a limited number of 'shots', and a blind spot. Within the species, there are many different breeds, ranging in size, shape, color, and abilities from the cat or dog sized
Terrible Terror
to the enormous
Timberjack
, to the
Green
or
Red Death
or even the 
Boneknapper
. Some dragon species can have different colored scales amongst individual specimens (such as the 
Terrible Terror
,
Monstrous Nightmare
,
Gronckle
,
Deadly Nadder
, and the
Thunderdrum
) while some retain the same color throughout their breed (such as the
Night Fury
,
Scauldron
,
Timberjack
, and the
Flightmare
).
They are most likely warm blooded, strong evidence of that is obviously the fact they live up in the cold north and also with some species such as Gronckles and Scauldrons, being able to take in things from their environment like rocks and water and produce enough internal heat to melt and/or boil the materials. The Book of Dragons shows that there are rumored five stages in a dragon's growth: Egg, Tiny Tooth, Short Wing, Broad Wing, and the rarely seen Titan Wing.
While the natural diet of most dragons is fish, they will happily eat other things, such as vegetables, and man-made food like bread. Changewings and Monstrous Nightmares have been shown hunting wild boars, so it may be that at least some of the other larger, land-based species do also. The Flightmare eats algae suspended in water, which other dragons can also eat. The trained dragons on Berk will not hunt farm animals, but they will accept their cooked meat if given to them by humans. Some can also eat other substances, such as Gronkles eating rock for food and to convert to the lava they fire, and Scaldrons enjoy the blue oleander flower, which is poisonous to reptiles and other dragon species. During the war with the dragons, it is fairly clear that they were also willing to prey on humans, as a Monstrous Nightmare swallowed Gobber's arm and enjoyed it. 
Dragons have three major predators: healthy adults can be in danger from rival dragons and humans, and wild boars prey on young and injured dragons.
Dragons are social animals, living in large colonies with their own kind and other dragon species. This behavior has also moved on to other species such as humans and domestic animals such as sheep, cattle and chickens thanks to training and semi "domesticating" of dragons.
Trivia
Dragon species such as the Terrible Terror and Night Fury were created during the first film.
The Grapple Grounder appears to be exclusive to the How to Train Your Dragon (game).
In the books, dragons were portrayed as very sneaky and selfish creatures, that only care about their trainers if they feed them. In the movies and series, the exact opposite is shown.
Just about all of the dragons in the TV series and films have been shown to have wings. Some of them who now have wings didn't have any during concept art.