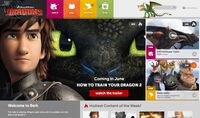 Dragonpedia is the offical website of the How To Train Your Dragon franchise. It contains several pages about the Vikings, dragons and Hiccup's Map, as well as videos, games and the latest news of the franchise. Link to the website: [1]
Dragonpedia
The Dragonpedia contains several dragons from the franchise, from the first film, to the TV Series, to the second film. Some dragons, like Hookfang and Toothless, represent their species at the Dragonpedia. The dragons are organized by Class.
Strike Class
Tracker Class
Sharp Class
Boulder Class
Tidal Class
Mystery Class
Stoker Class
Viking Guide
Along with the Dragonpedia, the Viking Guide is also introduced. Its includes the Vikings of the franchise, and is classified into four Tribes: Hairy Hooligans, Berserkers, Dragon Hunters, and Unknown. The Hooligans are symbolized by a Viking helmet. Unknown as an axe.
Hairy Hooligans
Berserkers
Dragon Hunters
Unknown
Hiccup's Map
The Map shows a drawing of various locations in the Barbaric Archipelago, along with the various Dragon Species. So far,
Berk
is the only location on it.
Trivia
Ad blocker interference detected!
Wikia is a free-to-use site that makes money from advertising. We have a modified experience for viewers using ad blockers

Wikia is not accessible if you've made further modifications. Remove the custom ad blocker rule(s) and the page will load as expected.