"With Vikings on the backs of dragons, the world just got a whole lot bigger."


This article is a stub and would benefit greatly with more information. You can help by expanding it.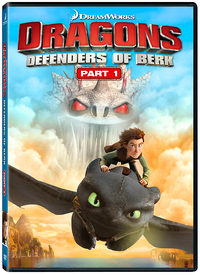 Dragons: Defenders of Berk Part 1 DVD is the first DVD of Dragons: Defenders of Berk, and the third DVD in the DreamWorks Dragons: The Series.
Two disk set includes
Dragon Tracker Part 3 with Hiccup
Evolution of the Screaming Death with David Jones; Visual Effects Supervisor
"Super Fly" Dragon Mash-up (music video)
Full length ad for School of Dragons
Same promotional Dragon media as previous DVDs
Activation code for a Battle Pack for the game School of Dragons
Riders of Berk Part 2 <-Last in the series ¦ Next in the series-> Defenders of Berk, Part 2
Trivia
As with the other DVDs, Hiccup's voice in the Dragon Tracker is performed by an uncredited voice actor
Ad blocker interference detected!
Wikia is a free-to-use site that makes money from advertising. We have a modified experience for viewers using ad blockers

Wikia is not accessible if you've made further modifications. Remove the custom ad blocker rule(s) and the page will load as expected.