"With Vikings on the backs of dragons, the world just got a whole lot bigger."


This article is a stub and would benefit greatly with more information. You can help by expanding it.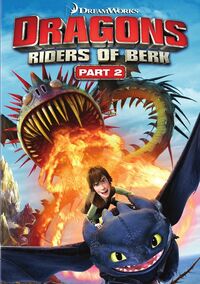 This is the second DVD of DreamWorks Dragons: The Series.
Two disk set includes
Dragon Tracker Part 2 with Hiccup
Evolution of the Whispering Death with David Jones; Visual Effects Supervisor
"Fly High" Dragon Mash-up (music video)
Activation code for a Battle Pack for the game School of Dragons
Same full length Dragon promotional material as Part 1.
Riders of Berk, Part 1 <-Last in the series ¦ Next in the series-> Defenders of Berk, Part 1
Trivia
This DVD contains two different music videos of the song "Fly High"; one featuring scenes from  How to Train Your Dragon, and the other from Riders of Berk.
As with Riders of Berk Part 1, the Dragon Tracker is narrated by an uncredited voice actor playing the part of Hiccup.
Despite being a "sneak peek" in the Dragon Tracker, we never see or hear anything else about the Timberjack.
Ad blocker interference detected!
Wikia is a free-to-use site that makes money from advertising. We have a modified experience for viewers using ad blockers

Wikia is not accessible if you've made further modifications. Remove the custom ad blocker rule(s) and the page will load as expected.