Fishlegs Ingerman
Talk

6
388pages on
this wiki
Fishlegs Ingerman is Hiccup's best friend in the books. He is clumsy and inept, always making mistakes at inappropriate moments. Stoick the Vast calls him "Fisheggs," and Snotface Snotlout and Dogsbreath pick on him constantly.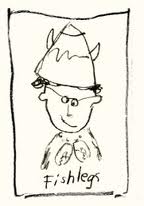 In the Books
In the book, Fishlegs is small, scrawny, and even less valiant than Hiccup. In the book, Fishlegs was unable to capture a dragon as part of his test, so Hiccup gave the dragon he had captured to him to pass. Hiccup later manages to capture a Garden Dragon which he later names Toothless where as Fishlegs keep the Basic Brown named Horrorcow that Hiccup has originally caught. He has shown Berserker like qualities in the book.
In How to Seize a Dragon's Jewel it was revealed that his mother, Termagent, was a Cheif's daughter who married a hansome fisherman. When he died in a storm, the only thing that kept her going was that she was pregnant with Fishlegs. Since he was a runt, he was sent out to sea. Termagent had her dragon, a three-headed Deadly Shadow, follow her baby and take him to Hero's End. The dragon lost sight of Fishlegs in the fog and spent two weeks looking for him. Termagent passed away some time after sending her baby off. Fishleags was later reunited with the Deadly Shadow, and is now his new dragon.
In the film
In the film adaptation, Fishlegs is quite the opposite to his book counterpart. He is very big and chubby and often spouts off information about dragons whenever he can, usually as if he were describing the stats of a creature in an RPG. This annoys the other teenagers frequently during their sessions at Dragon Training.
Later, Fishlegs learns how to fly on a dragon from Hiccup and ends up flying and owning the Gronckle used in Dragon Training, which he later names Meatlug. His analysis of dragons becomes invaluable for the rest of the Vikings when he identifies the characteristics and weaknesses of the Red Death.
In Dragons: Riders of Berk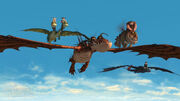 In the TV Series, Fishlegs is a main character. Like Hiccup, his fur outfit is furless, which is because of lower budgets. Like the film, he provides information on dragons, which is sometimes helpful, such as that the Scauldron eats the Blue Oleander, which can provide a cure for the allergic reaction dragons have to the flower. He and his dragon, Meatlug, share a sibling relationship, as the two are sad when they are apart, as shown when the dragons were exiled to the Dragon's Nest, or when Meatlug and the other dragons got sick after Mildew planted the blue oleander plant around Berk to kill the dragons. Fishlegs and Meatlug are, as said previously, extremely close in the series. They have a rather odd nurturing relation ship. Fishlegs pours compliments on her as often as possible, and Meatlug seems to always try and console Fishlegs when he becomes upset. Fishlegs occasionally refers to himself as "Daddy" when speaking to her.
Fishlegs has only really played a major role in one episode. He appears in practically every one, but in those he is usually just backing up the team with his dragon knowledge. This changes in "Gem of a Different Color " when Fishlegs must stand up for himself and confront Snotlout. He displays a great amount of bravery in the episode, and even puts himself at the mercy of four angry Changewings for the sake of doing what is right.
Memorable Quotes
[being chased by a Nadder] "AHHH! I'm really beginning to question your teaching methods!"
"Oh! I've read it like, seven times. There's this water dragon that sprays boiling water at your face, and, and there's this other one, that buries itself for like a week-"
"I'm okay! ...Less okay."
"I don't mean to be Norbert the Negative, but the ocean is really, really vast, and our chance of finding those dragon feet are about as good as Snotlout and Astrid..."
"Isn't it weird to think that your hand was inside a dragon? Like if your mind was still in control of it, you could have killed that dragon from the inside, by... crushing its heart, or something."
"Chances of survival are dwindling into single-digits now..."
"If you're planning on getting eaten, I'd definitely go with the Gronkle."
Trivia
In the books, Fishlegs is even skinnier then Hiccup, but in the movie, he's a heavy-set teen.
Fishlegs is the only one in the movie that doesn't seem to actually make fun of Hiccup besides Astrid.