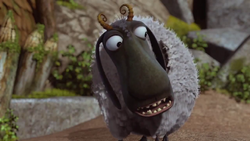 Fungus is Mildew's pet sheep and presumably his best friend because he talks to him more than anybody. He also has his picture on Mildew's wall next to all of Mildew's ex-wifes. Fungus lives full time with Mildew, at the edge of Berk. He can be presumed to be an Outcast. Fungus is the only living thing that Mildew truly cares about. This was proven in We Are Family, Part 2, where Mildew was very upset when he heard Fungus was going to be his last meal. Though Mildew was just acting, it's not sure if he really would be upset if Fungus was taken away.
Personality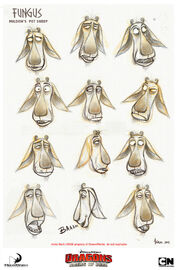 Wherever Mildew is, Fungus usually isn't far behind. Fungus usually follows Mildew, but it isn't known if he is really loyal to the grumpy old Viking. Though Fungus does show that he loves his owner and Mildew has shown that he deeply cares.
Abilities
Compared to other sheep on Berk, Fungus is bit different.
Intelligence: He is shown to be bit smarter than others of his kind. As he knew that Hiccup was spying on his master and tried to warn his master. Also, he knew he was playing his part of pretending to become Mildew's last meal to be more convincing to Hiccup.
Trivia
Fungus is the first sheep in the series to be one of the villains, but he changed his ways when his master turned good
A picture of Fungus is on the wall, next to Mildew's deceased wives. This may suggest he cares more about his sheep, then his wives.
Unlike the other sheep seen in the franchise, Fungus has a slightly greenish nose and long peg like teeth.
Gallery