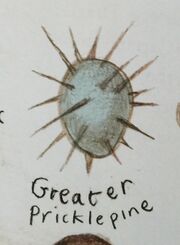 Greater Pricklepines are mentioned by name and picture of an egg only, in the Complete Book of Dragons. It is possible that this is a type or species of Pricklepines, specifically a larger sized one (hence "Greater" in the name). There is no information or description, but obviously this dragon is prickly—has a lot of spikes—as the eggs are shown to even be prickled.
References
Ad blocker interference detected!
Wikia is a free-to-use site that makes money from advertising. We have a modified experience for viewers using ad blockers

Wikia is not accessible if you've made further modifications. Remove the custom ad blocker rule(s) and the page will load as expected.