Gruff is a male Hobblegrunt seen in How to Train Your Dragon 2, and one of the many dragons that Valka has saved over the past twenty years from Drago Bludvist. Gruff was blinded by a tree snare and left to die, but Valka saved him and cared for him and other injured within Dragon Mountain, such as Lump and Thump.
History
Origins
Gruff used to be an ordinary wild dragon, until he was caught in a tree snare by one of Drago's Dragon Trappers, and the incident blinded him. Fortunately, Valka and Cloudjumper had found him. Discovering who had maimed him, Valka asked the Bewilderbeast for aid and the king of dragons attack Eret's fortress and destroy it. Despite being blind, he still lives a happy life in Valka's Dragon Sanctuary.
Relationships
Gruff appears to be very close to Valka as he seems to enjoy her presence as he was saved by Valka to be very thankful, turning yellow when she strokes him.
Personality
Gruff is apparently very sensitive and shy. This was largely due to past incidents and traumatic damages he carries. However, this sensitiveness helps others to know subtle movements in nest mates' emotions, and with his abilities native to his species, the Hobblegrunt can be very useful and helpful as part of the warning system for the Sanctuary. According to Dragons: Rise of Berk, Gruff is very intelligent and can be trained to find its way to Berk, showing that he can fit in rather well with other dragons. Gruff is also mentally strong to live happily without sight.
Appearance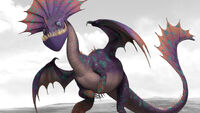 Gruff is so far the only known member of the Hobblegrunts. Due to the body size, he seems not to be a matured individual. He has a big frill at the back of his neck, clawed wings, sturdy nadder like legs, and short arms. His eyes are dull-colored caused by the snare that blinded him. He has long teeth protruding from the lower mandible. He resembles a theropod dinosaur like a Speed Stinger does. He changes color based on its mood, like all Hobblegrunts, the only parts that are always the same coloration are the blue spots he has all over his body.
Trivia
It might be that Valka, on her own, named all of her rescued dragon species or she may only give names to the ones that were her closer friends and allies such as Gruff.
In Dragonpedia, it is shown that Gruff now has the ability to show his mood and to change the mood of dragons around him by changing his color and vibrating his crown.
Gruff's card in Dragons Challenge Card Game states that he is a Horned Hobblegrunt. What this means remains to be seen.
Dragon Characters of
Night Fury: Toothless


Skrill: Brute Skrill • Frozen Skrill • Hunterbolt • Icebane
Snow Wraith: Frostfright's Big Bro • Frostfright's Lil Sis • Gothi's Frostfright • Skrill Chiller
Threadtail: Foliander • Mildew's Strain
Triple Stryke: Champion Triple Stryke • Eclipser • Nikora's Triple Stryke • Sleuther • Starstreak
Woolly Howl: Infected Woolly Howls • Wise Wind

Fireworm: Flashfright • Royal Fireworm • Snotlout's Fireworm Queen


Hobblegrunt: Gruff • Primal Hobblegrunt
Moldruffle: Exotic Moldruffle • Greenkeep
Monstrous Nightmare: Astrid's Monstrous Nightmare • Brisket, Saddle, Chuck, Rump, Loin, Scrag, Cutlet, Ham Hock, Sausages, Offal, Knuckle, and Pot Roast • Cagecruncher • Exiled Monstrous Nightmare • Fanghook • Firescrapes • Girl Hookfang • Hookfang • Hookfang's Mate and Offspring • Hookfang's Nemesis • Hookfire, Fangmaster and Hookblazefang • Sven's Nightmare • Valka's Mercy • Whip-Slash
Night Terror: Darkvarg • Hotshot • Nightwatch • Sacred Terror • Seedling Night Terror • Smidvarg • Tarred Night Terror
Singetail: Ambered Singetail • Deathlout • Flamelout • Heatlout • Hotlout • Krogan's Singetail • Scorch • Stoick
Terrible Terror: Butt and Head • Gothi's Pet • Iggy • Kick-off Terrors • Leopold • Pain • Sharpshot • Sneaky
Typhoomerang: Helpful Typhoomerang • Skyfire • Torch • Torch's Mother • Torch's Siblings • Trap-phoomerang

Bewilderbeast: Drago's Bewilderbeast • Valka's Bewilderbeast


Sand Wraith: Helpful Sand Wraith • Seedling Sand Wraith
Scauldron: Bonecrusher's Conquest • Bumble • Exotic Scauldron • Mildew's Misery • Scauldy • Snorre's Scauldrons
Seashocker: Bolt & Float • Covecharger • Soaky and Wetty • Valka's Three Seashockers • Wavewight
Shockjaw: Boltbite • Deepfreeze • Exotic Shockjaw
Sliquifier: Exotic Sliquifier • Grazefall • Splashspout
Submaripper: Mariner's Myth • Shipsbane
Submaripper (comics): Exotic Ripwrecker • Rogue Submaripper
Thunderdrum: Bam • Bing • Boom • Earsplitter • Eret's Thunderdrum • Lil Lullaby • Thornado • Whirlwing
Tide Glider: Exotic Tide Glider • Mistmenace
Windwalker: Skykarver

Catastrophic Quaken: Champion Catastrophic Quaken • Four-Man • Melonquarry • Tormentor • Spikeback


Eruptodon: Baby Eruptodon • Great Protector • Magmadon
Grapple Grounder: Exotic Grapple Grounder
Gronckle: Book Wyrm • Exiled Gronckle • Gothi's Gronckle • Meatlug • Meatlug's Mate • Meatlug's Offspring • Shattermaster • Thaw Fleet • Tuffnut Junior, Junior Tuffnut and Junior Tuffnut Junior • Yawnckle
Hotburple: Basket Case • Grump
Shovelhelm: Clawlifter • Exotic Shovelhelm • Guslout
Snafflefang: Irontooth • Lump • Primal Snafflefang
Thunderpede: Colorcrunch • Exotic Thunderpede • Furnace
Whispering Death: Death Ride • Exotic Whispering Death • Gravedigger • Groundsplitter • Hiccup's Baby Whispering Death • Screaming Death's Siblings • Toothless' Nemesis • Trailtwister

Egg Biter: Chompers • Egg Blossom • Exotic Egg Biter • Nipper


Hackatoo: Exotic Hackatoo • Hackagift
Prickleboggle: Seedling Prickleboggle
Raincutter: Puddlemuck • Thump
Razorwhip: Exotic Razorwhip • Fighter Razorwhip • Sawtooth • Windshear
Scuttleclaw: Scuttleclaw Hatchlings • Slushclaws
Shivertooth: Exotic Shivertooth • Helpful Shivertooth • Quiverpain
Speed Stinger: Exotic Speed Stinger • Fighter Speed Stinger • Icebreaker • Lead Stinger • Mala's Three Speed Stingers • Seedling Speed Stinger • Speedy
Stormcutter: Brute Stormcutter • Exiled Stormcutter • Reignstorm • Cloudjumper • Wonderclap
Thornridge: Gloomshadow • Primal Thornridge • Thornshade
Timberjack: Axewing • Brute Timberjack • Dammen's Timberjack • Soaring Sidekick • Stokehead • Stoneslice • Taxi
Windstriker: Galesplitter • Retired Windstriker • Snaggletooth • Winged Warden

Armorwing: Bandit • Coldsnap • Gresskarmor • Knocks


Boneknapper: Boneshedder • Brute Boneknapper • Dammen's Boneknapper • Gobber's Nemesis
Buffalord: Big Buff • Boarcharger • Brute Buffalord • Exotic Buffalord
Cavern Crasher: Exotic Cavern Crasher • Firecomb Crasher • Slimeball • Slimeslinger
Changewing: Baby Changewing • Edgewing • Incognito • Phantom • Snuffnut • Springwing • Tuffwing
Death Song: Garffiljorg • Garff's Adoptive Father
Flightmare: Exotic Flightmare • Hofferson's Bane • Injured Flightmare • Skystreaker • Trancemare • Viggo's Flightmare
Gobsucker: Gobstinker • Muddlehunt
Hideous Zippleback: Barf and Belch • Barf and Belch's Mate and Offspring • Exiled Hideous Zippleback • Fart & Sniff • Sparks and Spew • Whip and Lash
Slithersong: Exotic Slithersong • Dazzlesing
Smothering Smokebreath: Dustbrawler • Exotic Smothering Smokebreath • Gritpicker • Helpful Smokebreath • Rattling Smokebreath
Snaptrapper: Brute Snaptrapper • Death & Chocolates • Outsnapper • Snappy
Sweet Death: Exotic Sweet Death • Masked Sweet Death • Seedling Sweet Death
Sword Stealer: Broken Blade • Exotic Sword Stealer • Gleamer

Deadly Nadder: Ambered Nadder • Bork Week Nadders • Edge Nadder • Flystorm • Infected Deadly Nadders • Kingstail • Scardian • Sick Deadly Nadder • Steeltrap • Stormfly • Stormfly's Mate and Offspring • Vaynglory


Mudraker: Muddie
Rumblehorn: Seedling Rumblehorn • Skullcrusher
Snifflehunch: Pestbud • Primal Snifflehunch • Seedling Snifflehunch • Sneezlehunch
Submaripper: Shipsbane
Thunderclaw: Bonesnarl • Rumpus • Sailback
Windgnasher: Champion Windgnasher • Gustnudger


Small Shadow: Baited Breath