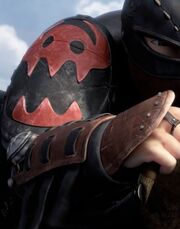 Hiccup's insignia is a combination of Hiccup's and Toothless' faces. It includes Hiccup's Viking helmet and Toothless' teeth. It is seen on Toothless' tail and in his most recent appearance, Hiccup's right shoulder armour.
How to Train Your Dragon
In the 1st movie the insignia is first seen on Toothless' new tail which was designed and given to him by Gobber. The tail is red and the insignia is white.
TV Series
The same insignia is kept on Toothless' tail through Dragons: Riders of Berk and Dragons: Defenders of Berk.
Race to the Edge
Toothless keeps the insignia on most of his tail fins where as Hiccup has the strike class symbol on his right shoulder armor.
Hiccup and Toothless now wear the same insignia. The final design is a combination of Hiccup's and Toothless' faces. The insignia can be seen on Toothless' tail and the right shoulder pad of Hiccup's new armor.
Ad blocker interference detected!
Wikia is a free-to-use site that makes money from advertising. We have a modified experience for viewers using ad blockers

Wikia is not accessible if you've made further modifications. Remove the custom ad blocker rule(s) and the page will load as expected.