Hiccup Horrendous Haddock III
Talk

23
388pages on
this wiki
Hiccup is the main character of the How to Train Your Dragon book series and the 2010 DreamWorks film adaptation, where he is voiced by Jay Baruchel. His full name is, Hiccup Horrendous Haddock the Third, the Hope and Heir to the Tribe of the Hairy Hooligans. He is a member of the Hairy Hooligan tribe, which is never referred to by name in the film. He is son of the chief, Stoick the Vast, thus making him heir to the tribe. His dragon, Toothless, is a Common or Garden Dragon, though, strangely, in the film is a Night Fury, the rarest and most intelligent of the dragon species in the film. There is a big difference.
Excitingly, Hiccup is planned to return, along with Toothless and the original cast from the first film, in How to Train Your Dragon 2 (Or working title, Dragons: Secrets of the Ice Cave) on June 20, 2014.
In the Books
Hiccup is shown as small and gangly with freckles and unruly red hair. In the first book, his age is 10 1/2. As the chief's son, he is expected to be heroic and strong, but it takes him a while to prove his worth to the tribe. In order to be initiated into the Hairy Hooligan tribe, Hiccup and the rest of Gobber the Belch's class of young boys have to travel to Wild Dragon Cliff, climb into a cave of sleeping dragons, and catch one. Unfortunately, Fishlegs wakes all of the dragons up when he reaches for a Deadly Nadder, so Hiccup gives Fishlegs his dragon as the others flee and rushes back into the cave to get a dragon of his own. He grabs Toothless; a tiny, toothless Common or Garden Dragon. Hiccup tries to train Toothless by talking to him in Dragonese and manages to train him enough to pass the initiation test by telling him jokes. However, during the test, Toothless' jealousy gets the better of him, leading to a massive dragon-fight. Hiccup and the rest of the young boys are banished from the tribe for their lack of control over their dragons until he later saves both the boys from exile and the village from certain doom when he leads the rest of the Hooligan boys, the Meathead boys, and their dragons in a fight to stop two Seadragonus Giganticus Maximus (the Green Death) from eating the tribe. For his heroic efforts, Hiccup is then given the title "Hiccup the Useful" and is considered a fearsome dragon warrior.
In the other books
In How to be a Pirate, Hiccup learns that he is left-handed, and a magnificent sword-fighter. After the events of that book, he uses his sword Endeavor to fight off Alvin and other enemies.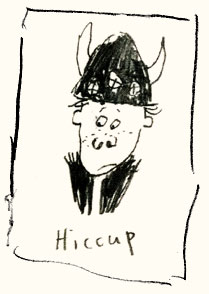 In the Film Franchise
Physical Appearance
Hiccup's appearance is much different to his book incarnation. He is portrayed with medium length dark auburn hair and green eyes. He is not short, but he is also far from muscular and is weak compared to the other Viking teens in his class. Hiccup is usually seen in dark green pants, a green tunic that reaches to his mid-thigh, a brown belt where he also keeps a small knife, a brown vest-like fur coat, and typical Viking-style boots. At the end of the movie, Hiccup is seen with a spring-loaded prosthetic for his left leg after part of it was lost in the final battle of the film. When he is flying with Toothless, his fur coat is replaced by a riding vest that helps him to stay secured to Toothless so that he doesn't fall off. It is also revealed that when Hiccup writes and draws, he is left-handed.
Personality
Despite his physical shortcomings, Hiccup does his best to succeed as a Viking. He is smart and is constantly creating inventions for various uses throughout the film, including a bola sling, a prosthetic tail, a saddle, and a riding vest. At first, however, Hiccup is almost obsessed with proving himself to the rest of his tribe; he often doesn't think things through and is more determined to gain the recognition of his peers than he is heedful of others' orders, often causing problems for the rest of the tribe, and himself. Hiccup also shows great aptitude at being a leader and strategist: he leads his dragon training class into battle, using his friends' strengths wisely in the battle against the Red Death. Hiccup also has very good observational skills which come in handy during his time with Toothless and during dragon training. For example, he is able to hypothesize that dragons have a natural disdain for eel when his own dragon companion refuses to eat one himself, and uses this to successfully drive back a Hideous Zippleback later.
Among the other teenage Vikings, Hiccup first comes off as awkward, mainly because he is a poor fighter, and rather scrawny for a Viking. As he becomes more adept at fighting dragons, however, they start paying more attention to him, some even starting to try to talk to him first. Despite this, Hiccup remains shy and secretive, preferring to be alone with Toothless, likely because he is unused to all the positive attention. He also tends to be sarcastic with a dry sense of humor that can sometimes put him at odds with the other Vikings in his tribe.
One extremely notable character trait Hiccup possesses is a deep sense of compassion. Because of this he spares Toothless, and in so doing he changes the world of How to Train your Dragon forever. He was extremely uncomfortable with the thought of having to kill a dragon in the arena later in the film. Hiccup carries this quality into the television series. He shows great sympathy to Snotlout at the end of the Thawfest games, giving up his own glory and fame for the sake of his friend. He will almost never allow Toothless to use his full power against foes. He begs Toothless to spare a Whispering death that had nearly killed both of them just moments earlier. The peak of Hiccup's sympathy is displayed in his releasing Mildew, the very man who had betrayed him, from an Outcast cell. Upon seeing the Outcasts take Mildew's one beloved possession, his sheep, Hiccup clearly displays pity for the old man. Unfortunately Hiccup is occasionally naive in his sympathy, for Mildew would soon betray him yet again. Still his kindheartedness has resulted in many a victory and accomplished the training of the most deadly dragon on the planet. The one character Hiccup seems to be willing to attack and even kill is Alvin. Originally he was more interested in avoiding him, but as Alvin's plots hit closer and closer to everything Hiccup cares and hopes about, Hiccup seems to harden in a difficult resolution. He has been seen ordering Toothless to kill Alvin when Alvin was threatening to toss Astrid off of a cliff. In the finale, Hiccup and Toothless both even charged Alvin in an attempt to kill him after he had captured, threatened, and deeply insulted both of them. They failed in this attempt, but with Alvin being one of the few people Hiccup is willing to let Toothless kill, Alvin may want to watch his step.
Role in the Film
At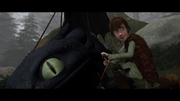 the start of the film, Hiccup is an embarrassment to his father, Stoick the Vast, the chief of the Hairy Hooligan tribe. Too small to wield traditional Viking weapons and therefore unable to kill a dragon like the rest of his village, he works as an assistant to Gobber the Belch, the village Blacksmith. One night during a dragon raid, Hiccup leaves his indoor work post and, with a bola sling named "The Mangler," manages to shoot down one of the deadliest and most feared dragons in the skies: the Night Fury. When
he goes to find his kill, after what appears to be many failed attempts, he find the dragon and discovers that it's still alive. Despite his determination to prove himself to the community as a great dragon killer, Hiccup is unable to kill it after seeing the fear in its eyes, and instead frees it. Meanwhile,
as he is looking for the Night Fury, Hiccup is enrolled into
Viking training
, where he is expected to learn to fight and kill dragons. At first, he struggles to complete the simplest tasks and hold his own against even the most (relatively) benign dragons, earning the usual mockery of his fellow teenagers. However, after managing to get close enough to bond with the Night Fury he shot down, which he names Toothless after its retractable fangs, he builds him a prosthetic tail to replace the one his bola injured, helps Toothless regain the ability to fly with Hiccup's assistance, and jump-starts their friendship. He gains valuable experience and a deeper insight into the mannerisms of most dragons, such as the fact that it is possible to scratch a dragon into submission if it is scratched gently in a certain spot under the chin. He is soon hailed as a Viking prodigy, with the time he spends with Toothless allowing him to ultimately "defeat" every dragon he encounters during training.
The stress of living this double life is hard on Hiccup, however. The other Vikings, particularly Astrid, take notice of his unexplained absences after dragon training sessions, although no one really comments on it. Eventually, after Hiccup places the top in training, Astrid manages to follow him and discovers Toothless. She runs off to tell the other Vikings, but Hiccup and Toothless stop her, flying her around the area on Toothless to calm Astrid down. It is during this ride that Hiccup sees the Red Death in the very Dragons' Nest his father has been trying to find and destroy. When they land, Hiccup manages to convince Astrid not to tell anyone about anything that happened by showing how loyal he is to his dragon. After their conversation, Astrid kisses Hiccup on the cheek after punching him in the shoulder, seeming to admire his loyalty.
The next day, Hiccup is required to fight and kill a
Monstrous Nightmare
as part of his final exam during dragon training. The task goes horribly wrong, however: when Stoick swings his hammer against the dragon training cage in response to Hiccup's blasphemous claims that dragons "aren't what we think they are" and that "we
don't have to kill them", Hiccup's methods of dragon appeasement no longer work and the Nightmare moves in for the kill. Toothless, hearing Hiccup's scream, tries again to get out of the cove alone, and, succeeding for the first time, rushes to the scene and beats the other dragon back while at the same time revealing himself to all the Vikings. Though Hiccup attempts to explain why he went against the Viking way of life and befriended a dragon, his father refuses to listen, and renounces him as his son, and instead takes advantage of Toothless, chaining him to a ship and using him to reach the Dragons' Nest. As the adult Vikings leave in search of the Nest, Astrid talks to Hiccup about the entire situation, trying to comfort him, showing him that his refusal to kill a dragon was a strength and not a weakness as he believed and asks him what he's going to do about it, which leads him say "something crazy." He goes off to do his 'crazy' plan, while Astrid apparently gathers the other Viking teenagers. Hiccup brings out the now docile Monstrous Nightmare, and teaches them how to ride on the back of a dragon.
While the Vikings try to fight a losing fight, the teens fly into the scene, with Gobber commenting that Hiccup is, "Every bit the stubborn, boar-headed Viking you ever were," to Stoick, who nods humbly. Hiccup goes onto the burning ship where Toothless is, and tries to free him, but soon the ship broke apart, pulling Toothless down to the seafloor. Hiccup still fails, however, and goes limp after a few moments of trying, only to be saved by his father, who also frees Toothless from his chains. After Toothless pulls him up to land again, Stoick tells his son that he doesn't have to do this, to which Hiccup replies by quoting his father's catchphrase, "We're Vikings. It's an occupational hazard."
In response to the familiar words, Stoick tells Hiccup how proud he is to call him as his son, just before Hiccup and Toothless fly off to confront the Red Death themselves. Hiccup manages to kill the Red Death by having Toothless shoot holes into its wings, and then diving towards the Nest at a high speed, so that after Toothless blasts a fire bolt into its mouth, it cannot pull up in time. During the fight, though, Toothless' prosthetic tail caught on fire, so as they are pulling out the last part of the plan (blasting fire into its mouth), they're running out of time. The Red Death crashes into the ground, triggering an explosion on impact. Hiccup and Toothless fly through its various spines and the flame; however, they run into the Red Death's tail at the last moment as they attempt to escape the resulting blast. The tail having fallen off, the two fall thousands of feet into the blaze below. As the village approaches the site of the explosion and finds that Hiccup is nowhere to be found, Stoick soon discovers that, even without his makeshift tail, Toothless protected the future chief from the fire by folding him in his wings. Stoick whole-heartedly apologizes to Toothless, and is deeply thankful to the dragon for bringing his son back to him alive.
When he wakes up after an unknown amount of time, Hiccup is heralded as a hero in the tribe. Although he lost his left foot and lower shin when he and Toothless fell into the fiery cloud, he was fitted with a prosthetic that Gobber designed and fabricated, "With a little Hiccup flair thrown in it." This new prosthetic matches Toothless' new left control stirrup which Gobber redesigned, and clips right into place. At the very end of the film, Astrid kisses Hiccup on the lips, this time seemingly as boyfriend and girlfriend, as the rest of the village accepts dragons onto the island as pets and companions.
In the TV Series
Physical Appearance
Hiccup's appearance changes only slightly between the film and the television series. He is usually seen with a vest that is less detailed, looking more of the consistency of wool, instead of his usual vest that's covered in thick fur, which is because of lower budgets. He is said to have grown only slightly between the films.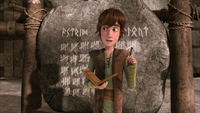 Role in the TV Series
Hiccup is known as the founder and head dragon trainer of Berk Dragon Academy, starting it by confronting the problem of dragons causing havoc around Berk. Hiccup's role in the series is unquestionably that of the main character since most of the plots revolve around him and his actions. Throughout the series, he, Toothless, the teens, and their dragons are forced to overcome many different kinds of hardships. Hiccup is looked up to by the teens as a leader, even if at times they don't like to admit it. Stoick entrusts great amounts of responsibility to Hiccup. In Riders of Berk, Hiccup's main difficulties begin with keeping the dragons under control. After that, the weather and harsh climate of Berk become a challenge that he must overcome. Mildew serves as one of his primary antagonists, and Hiccup is forced to go to desperate measures to keep the Vikings from falling back on the "old ways". Wild and rogue dragons are also either battled or trained by him during the series. Perhaps the most deadly enemy, Alvin the Treacherous, shares the role of his book counterpart as being Hiccup's nemesis. Hiccup is forced into conflict with him and his Outcast soldiers many times throughout the first season, but Hiccup usually emerges the victor, much to Alvin's frustration. 
Hiccup has been seen to have mild character development throughout the series. He is given much more responsibility, and he usually handles it well. He has gained significant skills as both a teacher and a leader. He and his father have actually grown to appreciate each other more and more as the series has progressed. Hiccup has also been seen to develop creative ideas for using and training the dragons which now inhabit Berk. He has developed in his relationship with Snotlout considerably. When they compete in the Thawfest games, both of them become rudely antagonistic towards each other. Hiccup snaps out of this with a little help from Astrid and his conscience, and he allows Snotlout to take victory for the sake of maintaining their friendship. Hiccup's sheer bravery usually winds up saving the day. He does not usually take risks unnecessarily, but he seems willing to risk everything for the sake of his friends, especially Toothless. Unfortunately this bravery occasionally becomes foolhardiness, and Hiccup has found himself in dangerous situations with no way to escape. Thankfully, he knows that he has Toothless and his friends to back him up, and throughout the series they are always ready to help him when he needs it.
Abilities and Talents
Being the main character of the franchise, Hiccup has many varied and useful talents.
Dragon Training: Though he only discovers this ability during the first film, Hiccup has grown to become the best dragon trainer on the Island. His dragon Toothless is the rarest and best dragon in the academy. Hiccup openly claims to be the best dragon rider in the episode "Thawfest ". He and Toothless have the strongest bond in the series. Because of his talents he has been made head of Berk's Dragon Academy. In the franchise Hiccup is always the one looked to when dragon related problems or needs come up. He trains a wild Monstrous Nightmare in seconds in the episode "Defiant One ". This is noticeably faster than even Astrid who has to train a similar type of dragon and does manage to do so but takes longer. He is also able to keep an enraged Whispering Death from running over him by simply putting his hand forward. Still some dragon challenges (including said Whispering Death) are greater than his ability, but he can always rely on Toothless and the other teens to have his back.
Drawing: Even before Hiccup began to train dragons, he practiced drawing. He is practically never without his journal and a large charcoal pencil. His sketches are usually quick and slightly messy, but compared to most other Vikings he is quite good. He uses this talent often. He sketches Toothless upon his second encounter with him. He uses his notebook to copy the map to the Isle of Night (unfortunately). He uses his artist talent to aid him in making plans and inventions. His room is littered with drawings of Toothless.
Inventing: Hiccup learned a great deal about crafting from Gobber. His many years of apprenticeship have certainly paid off. He has created many ingenious devices throughout the franchise. He uses the forge well (despite his small size), and he is excellent at working leather. His devices were originally weapon like, and the mangler cannon he designed allowed him to take down a Night Fury. After training Toothless he shifted in his desires and started working on a new tail for Toothless. This tail has been modified many times and is a work of sheer genius. He even created an auto tail using complex gear systems. Besides that Hiccup has managed to design a plethora of other objects, from winches to telescopes.
Intelligence: This talent is really at the heart of all Hiccup's other abilities. He is an extremely bright and logical boy. He does well leading the dragon training academy. His intelligence allows him to do many things that no other Viking has ever done (most notably training dragons). He works fairly well as a strategist though his plans are not always fool proof. His intelligence also gives him an extremely quick wit. He can out argue practically every Viking he meets. His sarcasm is actually quite useful at times, and it annoys his enemy Alvin the Treacherous to no end. His logical mind also is very useful in resolving conflicts. He is the only Viking to notice that lightning strikes metal, and he learns this just by observation. Unlike Fishlegs, who simply spouts facts off, Hiccup puts his knowledge to great practical use. All in all his logic, strategy, and fast wit make him a well-rounded clever person.
Relationships
Hiccup's father is the chief of the village, making Hiccup himself the next in line to become chief. However, the two seem to be complete opposites of each other: whereas Stoick is large, strong, brawny, and the best dragon fighter in the village, Hiccup is lanky, weak, brainy, and perhaps (initially, at least) the worst dragon fighter on the island. Their relationship is strained because of these differences, as Hiccup wants to make his dad proud by conforming to Viking norms and attempting to slay dragons but ends up making things worse most of the time.
Though confused as to what to do about Hiccup's peculiarities as a Viking, Stoick is very protective of his son; he is at first reluctant to send Hiccup to dragon training for fear that he will be killed. Moreover, during a dragon raid, it is shown that Stoick, along with everyone else in the village, prefers that Hiccup stay inside and out of harm's way (though this may be because Hiccup is more of a risk to the village than the dragons are to him).
Stoick becomes proud of Hiccup when he hears of Hiccup's success in dragon training and is elated to finally have something in common with his son, although his attempt at conversation with his awkward son ended in failure. However, after his son's relationship with Toothless is revealed, their small progress with one another is destroyed. Stoick accuses Hiccup of siding with the dragons and later no longer considers Hiccup to be his son. Their relationship is later mended when Hiccup comes to the rescue of the older Vikings during their confrontation with the Red Death with the help of his classmates and the dragons used in training, showing his dad his otherwise unseen bravery and leadership. This causes Stoick to apologize for his prejudice against dragons and say that he is proud to call Hiccup his son. Stoick shows how deeply he cares for Hiccup when he believes that Hiccup is dead and mourns, apologizing for not having listened to him before. He shows great happiness when he learns that Hiccup is still alive thanks to Toothless' efforts. Later, Stoick and the village welcome Hiccup as a hero and Stoick finally accepts his son for who he is.
Hiccup's relationship with Toothless is similar to that of the one between best friends or a pet owner and his beloved pet, perhaps even a sibling relationship. The two of them do seem to see each other as almost equals. And everyone seems to acknowledge that Toothless is by far Hiccup's closest friend. At first, both keep their distance after Hiccup shoots Toothless down with his bola sling invention, but their mutual curiosity leads them to try and learn more about each other. Hiccup starts to observe Toothless and learns many secrets about dragons from these observations that help Hiccup advance in his dragon fighting classes. Toothless starts to trust Hiccup and even allows him to touch him, and eventually ride him. The depth of their relationship is furthered when Hiccup fashions a prosthetic tail for Toothless, only to discover that the two need each other to use it to fly; Hiccup is needed to manipulate the prosthetic tail while Toothless does the actual flying.
Toothless is later very playful around Hiccup, and is also very protective of and loyal to him. This is shown in how before, no matter how hard he tried, he couldn't get out of the cove without flying, until he heard Hiccup's scream, then manages to climb out and fight off a Monstrous Nightmare in the dragon training ring before it could kill Hiccup, and refusing to leave when the rest of the village joins in on the fight, perhaps seeing them as a threat. Later, when Hiccup is knocked off of him while attempting to escape the explosion that kills the Red Death, Toothless manages to reach for and protect Hiccup by wrapping him in his wings, even without his own prosthetic tail. Toothless is later overjoyed when Hiccup wakes up after the battle, jumping around his house with glee, and tickling him, before helping his human friend to walk on his new prosthetic leg.
Their friendship is also strong in
Gift of the Night Fury
when Hiccup crafted a new tail for Toothless so he can
fly on his own. Toothless takes off, and only later Hiccup finds out why. When Toothless comes back, Hiccup finds out he took off to find his helmet. At the end Toothless trashed his new tail showing that he wanted to need Hiccup for him to fly.
Toothless and Hiccup's relationship remains mostly the same in Riders of Berk. They do occasionally have problems with one another as seen in Terrible Twos and What Flies Beneath, but they always come through for one another. Hiccup and Toothless continue to grow closer throughout the series, and both of them risk their lives for each other multiple times. Hiccup tries to make Toothless happy by finding more Night Furies, but his efforts are foiled when Mildew and Alvin trap them both. In the end, Toothless remains happy to stay with Hiccup as his closest companion and to remain one of a kind. Toothless seems to be very happy and satisfied to be with Hiccup, and Hiccup is extremely grateful to have Toothless be the closest friend he could ever have.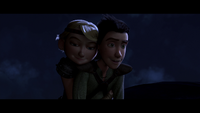 Astrid is Hiccup's main love interest and fellow dragon-fighting classmate in the movie. At first, she is unimpressed by Hiccup and his lack of dragon-fighting skills, and often rebuffs his efforts to speak to her. Although she doesn't make fun of him like the other Viking teens, she does not seem particularly pleased about his presence in the dragon training class either, and probably thinks that he is weak. Later, however, Astrid becomes jealous and angry about Hiccup's sudden success in Dragon Training and follows him into the forest, eventually discovering Hiccup's friendship with Toothless and threatening to reveal it to the village. After Hiccup and Toothless take her for a ride, her views about dragons and Hiccup change as she sees just how amazing dragons really are as well as Hiccup's true aptitude for communicating with them. She also grows a greater respect for Hiccup when he shows his adamancy in protecting Toothless, refusing to tell the other Vikings about their trip to Dragons' Nest and his friendship with the Night Fury out of fear that they would take drastic action against the dragons and kill Toothless. Astrid later tries to help Hiccup during his dragon training final exam when the Monstrous Nightmare attacks him by distracting it and later holds Hiccup back so that he doesn't get hurt when the Vikings overpower Toothless.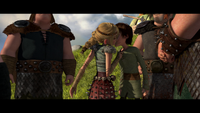 Astrid comforts Hiccup and inspires him to round up the other Viking teens to help him with his plan to save the villagers from the Red Death shortly after they depart for the Nest. When Hiccup is believed to be dead, she shows a softer side of her, obviously mourning the loss of her friend (and potentially mutual love interest). She finalizes her feelings for him at the end of the film when she kisses him on the lips, implying that the two may have some sort of romantic relationship (emphasized in
Gift of the Night Fury
where she kisses him again and gives him a hug, and he calls her "Milady"). However, outside of these situations and despite this mutual attraction, in
Dragons: Riders of Berk
it's shown that they do not consider themselves to be in any official relationship, often shying away from each other (such as separating after finding themselves holding each other, or scooting away when others point out how close they are sitting together).
Gobber is the blacksmith of the village, as well as a mentor and secondary father figure to Hiccup. Despite acting like all of his other students are expendable or simply paying little attention to their well-being, Gobber seems to have a soft spot for Hiccup. This is obscured, however, by the methods by which he goes about expressing his fondness of the boy. Though his intentions are good, Gobber often gives out comically bad advice that somehow just makes Hiccup feel worse. Most importantly, however, Gobber acts as the bridge of communication between Stoick and Hiccup, since the two seem to be unable to listen to one another otherwise. In fact, Gobber is the one who convinced Stoick to allow Hiccup to enroll in the Dragon Training classes, reminding the latter that he could not always hope to protect Hiccup; the best he could do was prepare him. At the end of the film, Gobber is the one who constructs a new prosthetic tail for Toothless and Hiccup's prosthetic leg.
The other important role Gobber filled was training Hiccup in leatherworking and as a blacksmith, which gave the imaginative teen an outlet for his mind along with practical design and fabrication skills. If an invention of Hiccup's fails, it's only because inexperience affected the design, never because of faulty parts, or that the parts were poorly crafted. Hiccup's innovation, improvement and engineering of his society's technology for his creations is often nothing short of sheer genius.
Hiccup and Snotlout are cousins in the book, and there has been evidence that they are the same in the movie. Snotlout's big ego and bullying attitude make Hiccup dislike him in the film. Snotlout openly mocks Hiccup's claims and is very often boosting his own image by throwing mud on Hiccup's. When Hiccup becomes popular, Snotlout does join in and become a huge fan. Snotlout is willing to come and aid Hiccup in the battle with the Red Death, and he is actually the first Viking Hiccup teaches to bond with a dragon. Snotlout quickly wipes a tear when he discovers that Hiccup is not dead, showing that he does at least slightly care for him. Hiccup and Snotlout maintain a sort of rivalry ever afterwards. Though at times they work together, they are usually at odds. Hiccup highly dislikes Snotlout's arrogant attitude and stupid decisions, but he tolerates him, and at times the two do come together and accomplish difficult tasks. Still, there is a general feeling of dislike between both Hiccup and Snotlout, and it is unlikely that Hiccup or Snotlout's attitudes will ever fully reconcile.
Hiccup gets along fairly well with Fishlegs throughout the franchise. In the books they are best friends, though they are much, much less close in the movie and series. Fishlegs does not seem to be as mean to Hiccup as the other teens during the first part of the film. He is not insulting or unkind, he just hardly speaks to him. After Hiccup become popular Fishlegs, like the other teens, immediately begins to admire him. Hiccup is often happy to have Fishlegs around as a source of dragon information. Fishlegs, Hiccup, and Astrid seem to be the more sensible side of the gang. Hiccup often is kind and caring towards Fishlegs who is occasionally overly emotional. Fishlegs and Hiccup do not always get along well though. Often Fishlegs spurts out information in a very unhelpful or annoying way. Hiccup is often openly frustrated with him for doing this. Hiccup has been seen to even be slightly teasing towards Fishlegs when he is stuck in a tree and blaims the crash on a flaming squirrel. Most of the time, Hiccup and Fishlegs do get along quite well, but Fishlegs is definitely not as close to Hiccup as Toothless or Astrid.
Hiccup has a very basic relationship with the twins. In the beginning of the movie, they joined Snotlout on making fun of him. When Hiccup begins to excel a dragon training, they become big fans. Ruffnut even developed a crush on him. When Hiccup sets off to fight the Red Death, they help along with the others. The twins are relieved that Hiccup is alive after the battle. Hiccup does get annoyed by them with their love of fighting and destruction, but that does come in handy when needed.
In the books, Hiccup and Alvin are arch enemies, and they keep that feeling of animosity in the series. Alvin clearly has some sort of history with Hiccup's father, and recognizes Hiccup as "Stoick's little embarrassment" and "Stoick's little runt". Hiccup at first outsmarts Alvin into taking him to dragon island. It is there that Alvin realizes that Hiccup is a master dragon trainer. Alvin then begins to try to train dragons of his own, but he fully realizes that to do so he will need Hiccup. He abducts several times throughout the franchise. Hiccup is usually sarcastic around Alvin which annoys Alvin considerably. This sarcasm displays an amount of contempt for the bloodthirsty chief. Hiccup and Alvin both clearly underestimate each other. Hiccup was completely fooled by Alvin's plot to lure him to the Isle of Night, and Alvin has many times watched helplessly as the "90 boy repeatedly defeats and army of blood-thirsty savages." Alvin is Hiccup's main enemy in the television series, and he is one of the few characters that Hiccup has openly ordered Toothless to finish off. The animosity between the two of them has grown and grown as Hiccup has escaped Alvin and Alvin has nearly destroyed things that Hiccup cares deeply about. Alvin has notably targeted Astrid, and this has served to fuel the fire of the rivalry. Then Alvin discover he could use Hiccup's love for Toothless to get at him, and this seemed to be the final straw. When Hiccup finally escaped, he and Toothless made a diving attack at Alvin and would have most likely killed him if they had not been downed by bolas. It is rare for Hiccup to be so determined to kill an enemy, but Alvin has given him good reasons to reach such decisions. Alvin has now trained a dragon, so it is highly likely that he and Hiccup will become even more embittered towards each other. 
Mildew and Hiccup are certainly not on any sort of good terms in the series. Mildew kicks off their rivalry by intentionally trying to get rid of the dragons. Mildew highly dislikes Hiccup because Hiccup has changed Berk, and because of this Mildew's animosity towards the dragons has stretched out to incorporate Hiccup as well. He intentionally makes Hiccup look as bad as possible in the eyes of the villagers and often attacks Hiccup's emotions through cruel guilt trips and accusations. This has lead to Hiccup highly disliking the old man. He never necessarily wishes harm upon the cantankerous old man, but when Mildew does get what is coming to him, Hiccup does seem to slightly enjoy it. Mildew tricks Hiccup into going into an Outcast trap, and this makes Hiccup even more angry with the old man. However, Hiccup does eventually pity Mildew when he seems him imprisoned, and Mildew convinces Hiccup to let him out of an Outcast cell. Hiccup is then fully willing to help the old man, and even tries to get him to bond with the dragons with some success. Unfortunately, it is all a trick, and Mildew winds up betraying Hiccup once again. Hiccup is unaware of this final betrayal, so he does try and rescue Mildew, but his father tells him that there is no way to help him. Hiccup currently does not necessarily like Mildew's company, but due his ignorance of Mildew's second betrayal, Hiccup has forgiven him. If Mildew's true treachery is revealed in Defenders of Berk, Hiccup's rivalry with the old man will reach new depths.
Memorable Quotes
"You just gestured to all of me."
"You, sir, are playing a dangerous game! Keeping this much raw... Viking-ness... contained! There will be consequences!"
(Imitating Stoick) "Excuse me, barmaid! I'm afraid you brought me the wrong offspring! I ordered an extra-large boy with beefy arms, extra guts and glory on the side. This here, this is a talking fish-bone!"
"Thank you for summing that up."
"Toothless? I could've sworn you had...teeth."
"Everything we know about you guys is wrong."
"OW, OH! Why would you do that?"
"Da da-da, we're dead!"
"And now the spinning. Thank you for nothing, you useless reptile."
"And we've killed thousands of them! They defend themselves, that's all!"
"I wouldn't kill him, because he looked as frightened as I was. I looked at him... and I saw myself."
"Ow- what is it always going to be this way? 'Cause... [Astrid kisses him] ...I could get used to it..."
"Bad dragon. Very bad dragon. You scared me to death! Don't ever stay away that long again, and what is in your mouth?"
"Buddy thank you. You are amazing!"
"If anyone can control them I can. I'm the best man for the job"
"There you go, talking about it!"
"We can't let that happen! Toothless is the best friend I've ever had."
"He's (referring to Stoick) looked angry since the day I was born, but I'm sure there's no connection."
"By the way, it's not really Dragon Conqueror; it's Dragon Trainer!"
"And I may not be able to prove what you've done, but I will never forget it."
"What? He started it (referring to Snotlout)...when we were five."
"Don't worry bud, it's you and me."
"You (referring to Toothless) save me; I save you! That's the way it is!"
"Uh, Dad, Gobber, other scary looking Vikings, I'd just like to say, in my own defense, that I cannot control Snotlout or the twins twenty four hours a day."
"Well, this is it, Toothless. You're finally gonna see you're not alone. Next stop: the Isle of Night."
"But turning Mildew into an Outcasts, using him against us? Come on, Alvin. That's low hanging fruit, even for you."
"Hang in there bud! I'll get you out."
"Toothless! Haha! Are you okay bud? Oh I am so sorry Toothless; this was all my fault."
Gallery