Ad blocker interference detected!
Wikia is a free-to-use site that makes money from advertising. We have a modified experience for viewers using ad blockers

Wikia is not accessible if you've made further modifications. Remove the custom ad blocker rule(s) and the page will load as expected.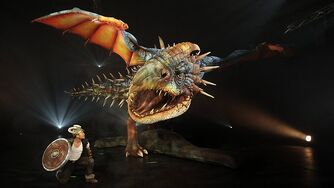 How to Train Your Dragon Live Spectacular, formerly known as How to Train Your Dragon Arena Spectacular, is a show from the creators of the Walking With Dinosaurs Arena Spectacular.
The show will tell the life of a young viking who realizes he's different than his fellow vikings. He catches a dragon and his world goes upside down.
Dragons featured in the show
Characters featured in the show
Tour dates
March 2-11, 2012: Hisense Arena, Melbourne, Australia
March 16-25, 2012: All Phones Arena, Sydney, Australia
March 28-April 1, 2012: Brisbane Entertainment Centre, Brisbane, Australia
April 18-22, 2012: Vector Arena, Auckland, New Zealand
June 2012: US/Canada tour begins
October 11-14, 2012: Jerome Schottenstein Center, Columbus, OH
(postponed), Joe Louis Arena, Detroit, MI
October 25-28, 2012: BMO Harris Bradley Center, Milwaukee, WI
November 1-4, 2012: Credit Union Centre, Saskatoon, SK
November 22-25, 2012: MTS Centre, Winnipeg, MB
December 6-9, 2012: Tacoma Dome, Tacoma, WA
December 19-22, 2012: Save Mart Center, Fresno, CA
December 26-30, 2012: HP Pavilion at San Jose, San Jose, CA
January 3-6, 2013: Power Balance Pavilion, Sacramenta, CA
January 10-13, 2013: EnergySolutions Arena, Salt Lake City, UT
January 17-20, 2013: Honda Center, Anaheim, C
Differences with the movie
Monstrous Nightmares have four legs instead of two
Egg Biters, Stingers and Gobsuckers are original dragons from this show
The Thunderdrum has the ability to swallow ships whole
The Timberjack has a razor sharp tail instead of wings
The Red Death has two eyes instead of six
The Terrible Terror doesn't appear at all on the show
There are more vikings in the dragon training class
Astrid saves a baby at the beginning instead of helping put out a fire
The tiny tooth is called tiny wing
Videos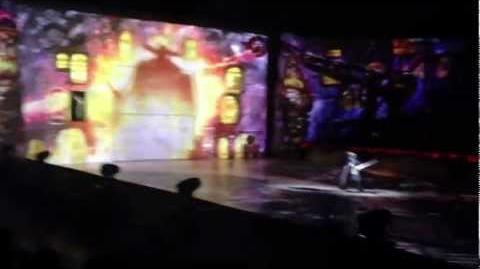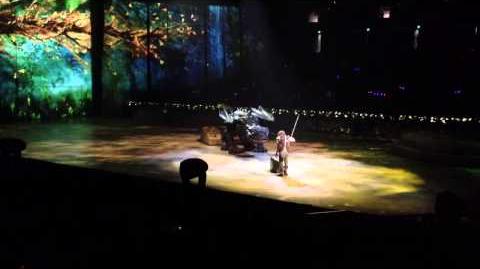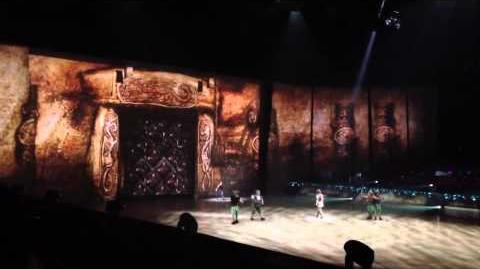 External Links
Media

Other
How to Train Your Dragon Live Spectacular