How to Train Your Dragon Wiki:Featured articles
Talk

0
389pages on
this wiki
How to Train Your Dragon Wiki:Featured articles are the featured articles from How to Train Your Dragon Wiki.
Featured articles
Edit
Featured Characters
Edit
June 25, 2010 - Present
Toothless is Hiccup's dragon. In the book, Toothless is a Common or Garden Dragon, while in the film, he is a larger black Night Fury.
May 23, 2010 - June 25, 2010
Astrid Hofferson is a young viking girl of the Hairy Hooligans tribe who goes to school with Hiccup and owns a Deadly Nadder dragon. She is striking, tough, energetic, and beautiful. Her determined and strong persona makes her hard to impress, but Hiccup can't help but be smitten. Therefore, Astrid is Hiccup's love interest, in spite of initially not liking Hiccup's friendship with Toothless, though she quickly is interested in Hiccup's problem with initially trying to keep Toothless a secret, and helps with his problems.
February 24, 2009 - May 23, 2010
Hiccup Horrendous Haddock III is the main character of the How to Train Your Dragon book series and the 2010 DreamWorks movie adaptation. He is a member of the Hairy Hooligan Tribe, which is never referred to by name in the movie. His dragon, Toothless, is a Night Fury, the rarest and most intelligent of the dragon species in the film, while in the book, his dragon is a Common or Garden Dragon. He is son of the chief, Stoick the Vast, and (only in the movie) has a crush on Astrid.
Featured Dragons
Edit
May 23, 2010 - Present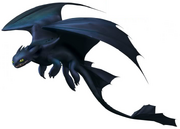 The
Night Fury
is a species of dragon that only appears in the
movie adaptation
. The Night Fury is the rarest and most intelligent species of dragon.
Hiccup
's dragon,
Toothless
, is a Night Fury. It is small to medium-sized with a sleek, dark blue body that is almost black. Physiologically, the Night Fury resembles an axolotl with three pair of wings, three ear-like apendages on the back of its head, a pair of yellowish-green, cat-like eyes, and sharp retractable teeth that are both resistant to flames and explosions. In flight, the Night Fury resembles a supersonic jet plane. Unlike most dragon species, the Night Fury has a short neck and lacks any kind of horns. It uses the wing-like flaps on its tail to steer and maneuver, similar to an airplane rudder. As seen in the movie, a Night Fury will be incapable of flying if one of these flaps is missing or destroyed.
Featured Others
Edit
June 25, 2010 - Present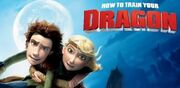 How to Train Your Dragon is a computer animated comedy adventure movie based on the book by Cressida Cowell. The film is directed by Chris Sanders and Dean DeBlois, and written by Dean DeBlois and Chris Sanders (script). Stars: Jay Baruchel, America Ferrera, Jonah Hill, Gerard Butler, Christopher Mintz-Plasse and Craig Ferguson. The film was released on March 26, 2010 by DreamWorks Animation / Paramount Pictures, receiving mostly favorable reviews. It grossed an estimated $43.3 million dollars in its opening weekend.