About This Wiki
How to Train Your Dragon Wiki is a collaborative encyclopedia all about the How to Train Your Dragon book series, soundtrack, game, film adaptation, and TV Series that anyone can edit.


Founded on February 24, 2009. We currently have 1,805 articles, 24,481 files, and 151,763 dragons trained.
Contribute to the How to Train Your Dragon Wiki

To write a new article, just enter the article title in the box below.
Loading RSS data...
Featured Dragon - The Bewilderbeast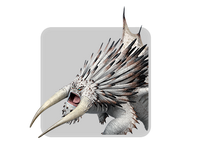 Bewilderbeast
are a new type of dragons that is featured in How
to Train Your Dragon 2, only two specimens are known to exist, one of them controlled by the movie's antagonist (Drago) while the other is assisted by the protagonist (Hiccup). These creatures are truly massive, dwarfing even the mighty dragon, The Red Death.
Featured Other - How to Train Your Dragon 2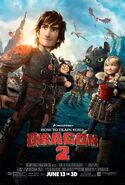 How to Train Your Dragon is the long awaited sequel of How to Train Your Dragon, the gang returned again for the action adventure movie set Five years after the original Film took place. The film is directed and scripted by Dean DeBlois. From the original, all voice actors returned, Jay Baruchel, America Ferrera, Jonah Hill, Gerard Butler, Christopher Mintz-Plasse and Craig Ferguson. The film is set to be released June 13th, 2014, by DreamWorks Animation.
Featured Relationship - Astrid and Hiccup's Relationship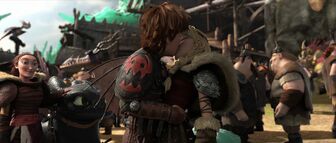 Astrid and Hiccup's relationship throughout most of the franchise would best be termed as not always platonic best friends.
Astrid's feelings for Hiccup usually manifest themselves as extreme devotion and protectiveness, as she is always the first to aid him in any situation and the last to leave him, which Hiccup reciprocates towards Astrid, she was the last to leave him on his serch for new dragons before Dagur broke out of prison and they moved to the edge. It appears to be an unspoken assumption that Astrid will accompany Hiccup on his adventures, more so then the other Vikings, and will usually invite herself along regardless. On the rare occasions that they are separated by mitigating circumstances, she is shown to worry greatly about him and is always overjoyed to be reunited with him. Beyond the romantic elements of their relationship, Astrid and Hiccup are the closest human friends that either has.
What was your favorite episode in Race to the Edge, season 4?
What was your least favorite episode in Race to the Edge, season 4?
What is your favorite Common Dragon?
What movie was your favorite?
How excited are you for How to Train Your Dragon 3?

The Serpent's Heir
will be released in
February 25, 2017 00:00:00 ESTPlease enable javascript on your browser.
How to Train Your Dragon 3
will premiere in
March 1, 2019 00:00:00 ESTPlease enable javascript on your browser.
0
How to Train Your Dragon Wiki
Join the Dragon Training Session!>
If you see this, your JavaScript might be disabled or DiscordIntegrator plugin isn't working. If the latter, please contact a wiki administrator.
The votes are in! And the results are . . .




And yes to this as well. I have enabled them now.

Thanks everyone for voting! Please Check How to Train Your Dragon Wiki Dragon Fight Club.

Read more >

Everybody needs to read this whole thing before commenting!

We need to get this wiki a bit more organized and create a strong policy on how every page should be done and what can't be done and make some rules here. I need your guys ideas on some things. I also want to come up with a way to be more interactive as a community.

All of the infoboxe…

Read more >
today i started edditing on the wikia in a hard way (adding pictures and making huge edits)

Read more >

As you might well know from January 23rd to February 10th the Great Couple in Fandom tournament ran on the Shipping Wiki and Hiccup and Astrid won it all. It has been brought to my attention that our Fandom does not have a page on the shipping wiki, as well as none of the ships, canon or fanon are on the Shipping Wiki.

From the get go, the can…

Read more >

WARNING: Spoilers for those who have not watched all of the episodes from Dragons: Race to the Edge, Season 4.

Part 1: Review of Season 4 of RTTE

- This season was a fun and exciting season. It was very interesting to see Hiccup have a bounty on his head, and to see Stoick's anger at those who kidnapped Hiccup. The Longest Day episode was very …

Read more >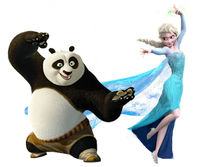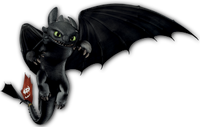 Children's Literature
Go to these sites for info or for help with your own wiki!
Alice's Adventures in Wonderland • Amulet • Anne of Green Gables • The Chronicles of Narnia • Dear America • Goosebumps • Guardians of Ga'Hoole • Harry Potter • How to Train Your Dragon • Miss Peregrine's Home for Peculiar Children • Oz • Tracy Beaker • The Underland Chronicles • The Unwanteds Series • Warriors Cats • Wings of Fire
Want your community included? See how!

Ad blocker interference detected!
Wikia is a free-to-use site that makes money from advertising. We have a modified experience for viewers using ad blockers

Wikia is not accessible if you've made further modifications. Remove the custom ad blocker rule(s) and the page will load as expected.