Home
Talk

34
545pages on
this wiki
How to Train Your Dragon Wiki is a collaborative encyclopedia all about the How to Train Your Dragon book series, soundtrack, game and the film adaptation and DreamWorks Dragons: The Series that anyone can edit.
Which is your favorite Dragons: Riders of Berk episode?
Contribute to the How to Train Your Dragon Wiki
To write a new article, just enter the article title in the box below.

The Seadragonus Giganticus Maximus is a type of dragon. These "preposterously huge" fire-breathing Sea Dragons are twenty times the size of a blue whale, and are very dangerous -- they kill for sport. When a Sea Dragon appears on the beach looking for a fight, Hiccup is the only one with a plan to save the tribe.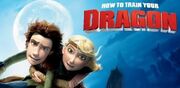 How to Train Your Dragon is a computer animated comedy adventure movie based on the book by Cressida Cowell. The film is directed by Chris Sanders and Dean DeBlois, and written by Dean DeBlois and Chris Sanders (script). Stars: Jay Baruchel, America Ferrera, Jonah Hill, Gerard Butler, Christopher Mintz-Plasse and Craig Ferguson. The film was released on March 26, 2010 by DreamWorks Animation / Paramount Pictures, receiving mostly favorable reviews. It grossed an estimated $43.3 million dollars in its opening weekend.

Hiccup Horrendous Haddock III is the main character of the How to Train Your Dragon book series and the 2010 DreamWorks film adaptation, where he is voiced by Jay Baruchel. He is a member of the Hairy Hooligan tribe, which is never referred to by name in the film. He is son of the chief, Stoick the Vast, thus making him heir to the tribe. His dragon, Toothless, is a Common or Garden Dragon, though in the film is a Night Fury, the rarest and most intelligent of the dragon species in the film.
Hiccup is planned to return, along with Toothless, in How To Train Your Dragon 2 on june 20, 2014.
Okay, I think it's time we standardised article's formats. We've previously agreed to use British English. However, this is more about layout. Voice your opinions on the comments and feel free to suggest other proposals.




Lead
Biography
In the film
Navboxes, categories, etc.




Lead
In the books
In the film
Navboxes, categories, etc.





Read more >
Hey It's ~Darkwolf44~

Ive changed my book of dragons project. I found my old diary that ive not used so im going to use that, also insted of printing pictures out im going to draw them all. So im kind of starting again :( But i now know what to do to make it better.

Read more >

Hello friends and fellow editors :), today I would like to announce I'm going to be more active! I've felt in the past week I have been on vacation and visiting and 82 year old grandmother, that I have not been editing much. Today I would like to say, if you need anything, let me know and I will try my best to help you and also, I will now be…

Read more >

Hey dear friends and folks, since I can't choose between 3 possible administrators and 1 will get chosen as administrator.

So we have 3 possible people:

User:Baricuda - An interesting user. However, he may want this status.
User:Thecloudjumperdragon - Really active user. However, writing in words is important here! Not to much Caps Lock using ;…

Read more >