Ad blocker interference detected!
Wikia is a free-to-use site that makes money from advertising. We have a modified experience for viewers using ad blockers

Wikia is not accessible if you've made further modifications. Remove the custom ad blocker rule(s) and the page will load as expected.
This is a list of episodes from the TV Series, DreamWorks Dragons: The Series. Season 1 and 2 aired every Wednesday at 8:00/7:00c on Cartoon Network. The Race to the Edge seasons are currently available on Netflix.
Preceding
Several animated stories precede the Riders of Berk storyline and establish characters and information for it. These include:
The Series
Before the season premiere of the series, there was a sneak peek of the first two episodes that aired on August 7, 2012.
Season
Subtitle
Number of
episodes
Airing
Season premiere
Season finale
1
Riders of Berk
20
September 4, 2012
March 20, 2013
2
Defenders of Berk
20
September 19, 2013
March 5, 2014
3
Race to the Edge (Season 1)
13
June 26, 2015
June 26, 2015
4
Race to the Edge (Season 2)
13
January 8, 2016
January 8, 2016
5
Race to the Edge (Season 3)
13
June 24, 2016 [1]
June 24, 2016
6
Race to the Edge (Season 4)
13
TBA
TBA
7
Race to the Edge (Season 5)
13
TBA
TBA
8
Race to the Edge (Season 6)
13
TBA
TBA
Riders of Berk
Series
No.
Season
No.
Episode Title
Date
Aired
Prod.
Code
1
1
How to Start a Dragon Academy
August 7, 2012
(Hour-long sneak peek)
N/A

In the aftermath of the movie, the kids are enjoying their new lives with dragons, but the rest of the villagers aren't so sure. Hiccup and the other kids must find a way that the dragons can help the village, or risk having them get banished forever.
2
2
Viking for Hire
August 7, 2012
(Hour-long sneak peek)
N/A

Without the need for dragon killing weapons, Gobber finds himself without a job in Berk. It's up to Hiccup to find a new calling for his friend and mentor.
3
3
Animal House
September 4, 2012
101

With the winter storms approaching, the dragon riders are forced to find a way to help the Berk farm animals (yaks, sheep, etc.) overcome their fear of the dragons. If they can't, Berk will starve from lack of eggs, milk, wool, etc.
4
4
The Terrible Twos
September 11, 2012
102

When Hiccup discovers an injured baby dragon who he names Torch, Toothless takes a fierce dislike to the energetic and mischievous beast. But unbeknownst the riders, Torch's much bigger and angrier mother is looking for him, and is headed their way…
5
5
In Dragons We Trust
September 18, 2012
103

Hiccup is given the responsibility to integrate dragons into the village of Berk and must contend with his rowdy friends, unruly dragons and an upset village elder.
6
6
Alvin & the Outcasts
September 25, 2012
104

After losing their armory and their dragons, Berk finds itself facing an attack by Alvin the Treacherous and the Outcasts, their sworn enemies. Hiccup and the other dragon riders must ward off the Outcasts long enough to get their dragons back.
7
7
How to Pick Your Dragon
October 3, 2012
105

When Stoick decides he needs a dragon of his own to help with his duties as chief, he starts monopolizing Toothless, leaving Hiccup to find a new dragon for his father to ride.
8
8
Portrait of Hiccup as a Buff Young Man
October 10, 2012
106

Hiccup is dismayed when he sees his and Stoick's father-son portrait has been altered to make Hiccup look more muscular. Desperate to prove himself to his father, Hiccup sets out to find a fabled long-lost treasure.
9
9
Dragon Flower
October 17, 2012
107

When Mildew plants Blue Oleander flower throughout Berk, the dragons fall deathly ill one-by-one. Hiccup and Stoick must venture out to find the Scauldron, an aquatic dragon whose venom is the only cure for the flower's poison.
10
10
Heather Report, Part I
November 14, 2012
108

When a young girl named Heather washes up on the shores of Berk, seemingly attacked by pirates, Astrid is suspicious of her motives, especially when Heather takes a vested interest in the workings of the dragon academy. The episode is the first of another two part story.
11
11
Heather Report, Part II
November 21, 2012
109

Heather reveals that Alvin is holding her parents captive, blackmailing her into working for him. Astrid embarks on a mission to Outcast Island, disguised as Heather, to retrieve the lost Book of Dragons and rescue Heather's parents.
12
12
Thawfest
November 28, 2012
110

When dragon events are included in the annual Thaw Festival games, Hiccup sees a chance to finally beat Snotlout, the winner for the past several years. But when Hiccup's competitiveness gets the better of him, he risks alienating his friends.
13
13
When Lightning Strikes
December 5, 2012
111

Mildew leads the village to near revolt when Toothless appears to be attracting a vicious lightning storm, claiming that Thor is punishing the village for taking him in, and that the Night Fury must be banished.
14
14
What Flies Beneath
Feburary 6, 2013
112

When the Whispering Death, a vicious tunneling species of dragon, comes to Berk, it becomes clear that he and Toothless have a long-term grudge to settle. The only problem is that Toothless won't let Hiccup help him, and thus he's unable to fly.
15
15
Twinsanity

February 13,2013

N/A

A falling out between Ruffnut and Tuffnut leaves their Zippleback, Barf-Belch out of control at the worst possible time, as Berk is visited by Dagur the Deranged, the deranged chief of the warlike Berserker tribe.
16
16
Defiant One
Febuary 20, 2013
N/A

While arguing during a flight, Hiccup and an insubordinate Snotlout get stranded on Outcast Island. Hiccup must evade wild dragons and repair Toothless's tail before Alvin discovers he's on the island.
17
17
Breakneck Bog
February 27, 2013
N/A

When Trader Johann goes missing, Hiccup and the kids venture out to find him. They discover that Johann's ship has been taken by the mysterious creatures of Breakneck Bog, along with his cargo: a gift from Hiccup's late mother.
18
18
Gem of a Different Color
March 6, 2013
N/A

When Fishlegs discovers a supposed Stone of Good Fortune, the kids soon realize that the stones are in fact Changewing eggs. Soon enough, the mother Changewings overrun Berk in search of their missing babies.
19
19
We Are Family, Part I
March 13, 2013
N/A

When Hiccup is entrusted with the writings and notes of Bork, Berk's legendary dragon expert, he discovers information that could lead to the Isle of Night… the supposed home of the Night Furies.
20
20
We Are Family, Part II
March 20, 2013
N/A

When Alvin betrays Mildew, Hiccup aids him in escaping Outcast Island. Hiccup, Toothless and the rest of the dragon academy face off against Alvin, the Outcasts and the wild dragons of Outcast Island.
Defenders of Berk
Series
No.
Season
No.
Episode Title
Date
Aired
Prod.
Code
21
1
Live and Let Fly (Flight Club)
September 19, 2013

N/A

Certain that Alvin is planning an attack on Berk, Stoick restricts the Dragon Academy from flying. Hiccup forms a secret "Dragon Flight Club", in order to train the kids to defend against Alvin without his father knowing.
22
2
The Iron Gronckle
September 26, 2013

N/A

When Meatlug begins producing a type of iron more powerful than anything Berk has ever seen, the often‐neglected Fishlegs becomes the most popular man in town.
23
3
The Night and the Fury
October 3, 2013
N/A

The kids go on a dragon survival training mission to Dragon Island, where they encounter Dagur, the Berserker Chief, who has become obsessed with hunting the Night Fury.
24
4
Tunnel Vision
October 10, 2013
N/A

Hiccup discovers that the town's water shortage has been caused by the Outcasts' plan to hide Whispering Death eggs under Berk, which soon hatch and tunnel under the island, threatening the villagers. Also, a new, terrifying threat arrives from underneath Berk.
25
5
Race to Fireworm Island
October 17, 2013
N/A

Hookfang is losing his ability to catch on fire, and it's up to Snotlout, Hiccup and the others to find the lair of the Fireworm Queen, which may hold the only possible cure, before it's too late.
26
6
Fright of Passage
October 24, 2013
N/A

Hiccup must help Astrid face her fear of the terrifying Flightmare, a ghostly dragon that seemingly "froze" her uncle with fear ten years ago, shaming her family name. With Fishlegs' help, they discover that there's more to the Flightmare than meets the eye.
27
7
Worst in Show
November 7, 2013
N/A

A Terrible Terror training competition leads to a heated rivalry between Fishlegs and Snotlout, allowing Alvin to kidnap Meatlug. The kids must use their newly trained Terrors to rescue their friend.
28
8
Appetite for Destruction
November 14, 2013
N/A

When wild dragons start overwhelming Berk, Hiccup and Toothless discover islands are disappearing throughout the archipelago. When Hiccup and Toothless investigate the cause, they then encounter the Screaming Death, who is now bigger, meaner, and smarter. "Not the greatest combination."
29
9
Zippleback Down
November 21, 2013
N/A

Barf and Belch are Tuffnut's only guard when he gets caught in an old dragon trap in the forest. Things go from bad to worse when Tuffnut is faced with not only a large Typhoomerang, but a deadly forest fire that soon threatens him and both the dragons.
30
10
A View to a Skrill, Part I
December 5, 2013
N/A

When the dragon riders discover a frozen Skrill, a lightning‐powered dragon revered by the Berserkers, they scramble to get it off Berk. But when the Skrill is thawed and unleashed, Hiccup and Toothless must battle both the Skrill and Dagur's Berserkers.
31
11
A View to a Skrill, Part II
December 5, 2013
N/A 

Hiccup, Ruffnut and Tuffnut must infiltrate Outcast Island and contend with the new alliance between Alvin and Dagur, who wield the fearsome power of their combined armada, along with the deadly Skrill.
32
12
The Flight Stuff
January 8, 2014
N/A

Snotlout becomes convinced he is dying, and leaves Hookfang to Gustav. But when he "miraculously" recovers, Snotlout takes his dragon back, and Gustav decides to get a dragon of his own (named Fanghook) and join the academy… whether they want him or not.
33
13
Free Scauldy
January 15, 2014
N/A

Hiccup, Toothless and the dragon riders discover an injured Scauldron on the shores of Changewing Island. They must heal him and return him to the ocean before he falls victim to the elements, or the Changewings.
34
14
Frozen
January 22, 2014
N/A

Hiccup and Toothless return from a mission to find Berk mysteriously empty. They discover that the village has been overrun by Speed Stingers, a venomous non‐flying dragon that has trekked across the frozen sea to Berk.
35
15
A Tale of Two Dragons
January 29, 2014
N/A

Hiccup must mend fences between Astrid and Snotlout when Stormfly and Hookfang start fighting to the death. Astrid and Snotlout must grudgingly work together to find the cause of the feud, if they want to help keep their dragons from killing each other.
36
16
The Eel Effect
February 5, 2014
N/A

While gathering medicine for an Eel Pox epidemic on Berk, Toothless accidentally eats an eel, which causes him to become paranoid, skittish and possibly dangerous. Stranded together on Eel Island, Hiccup must find a way to retrain his wayward dragon.
37
17
Smoke Gets in Your Eyes
February 12, 2014
N/A

The mysterious theft of metal objects all over Berk reveals the presence of marauding Smokebreaths. Hiccup and Toothless soon discover that these dragons are the work of Dagur, in a plot to render Berk defenseless.
38
18
Bing! Bam! Boom!
February 19, 2014
N/A

Hiccup and Stoick, along with Toothless and Thornado, discover an orphaned trio of young Thunderdrums. The dragons follow them back to Berk, and it soon falls to Thornado to take the unruly dragons under his wing.
39
19
Cast Out, Part I
February 26, 2014
N/A

Fed up with Snotlout's disrespect, Hiccup suspends him from the academy. When Snotlout leaves Berk, he encounters both the Screaming Death, and Alvin The Treacherous is brought back to Berk, but his motives are unclear.
40
20
Cast Out, Part II
March 5, 2014
N/A

Hiccup cautiously accepts Alvin's help on a mission to rescue Stoick from Dagur's clutches. The dragon riders, Berserkers, and the Screaming Death all converge on Outcast Island, for a confrontation that may decide the fate of the archipelago.
Series
No.
Season
No.
Episode Title
Date
Aired
Prod.
Code
41
1
Dragon Eye of the Beholder, Part I
June 26, 2015
N/A

During their search for the escaped Dagur the Deranged, Hiccup and the Dragon Riders discover a mysterious object -- one that holds their destiny.
42
2
Dragon Eye of the Beholder, Part II
June 26, 2015
N/A

Hiccup and the Dragon Riders journey to Glacier Island to find the Snow Wraith, a fearsome dragon that holds the key to the Dragon Eye's mysteries.
43
3
Imperfect Harmony
June 26, 2015
N/A

The Dragon Riders discover a lush island that turns out to be the home of Deathsong, a massive dragon that threatens to them forever.
44
4
When Darkness Falls
June 26, 2015
N/A

On a island that will make the perfect outpost, the Dragon Riders discover that the indigenous residents are a a mysterious new breed of dragon.
45
5
Big Man on Berk
June 26, 2015
N/A

Thinking he's allergic to his dragon, Fishlegs gets hypnotized. He wakes up transformed into an invincible warrior known as Thor Bonecrusher.
46
6
Gone Gustav Gone
June 26, 2015
N/A

When Dagur the Deranged captures Gustav, it's up to Hiccup and the Dragon Riders to get him back.
47
7
Reign of Fireworms
June 26, 2015
N/A

Fireworms invade Dragon's Edge, while Ruffnut and Tuffnut discover that they have an unexpected connection to the island.
48
8
Crushing It
June 26, 2015
N/A

As a Rumblehorn wreaks havoc on Dragon's Edge, Hiccup seeks the help of Stoick, who forms an unexpected bond with the rampaging beast.
49
9
Quake, Rattle and Roll
June 26, 2015
N/A

Fishlegs and Meatlug liberate the Gronckles from a menacing dragon that has encroached on their ancestral home, Dark Deep.
50
10
Have Dragon Will Travel, Part I
June 26, 2015
N/A

The Dragon Riders are surprised to discover who is behind recent attacks on nearby ships -- and to learn exactly what the ships are.
51
11
Have Dragon Will Travel, Part II
June 26, 2015
N/A

Heather joins the Dragon Riders, but it's not an easy alliance, especially when Hiccup uncovers a shocking secret about her true identity.
52
12
The Next Big Sting
June 26, 2015
N/A

Hiccup and the Dragon Riders rescue a wounded Speed Stinger and take it back to Dragon's Edge, unaware of the dangers that follow.
53
13
Total Nightmare
June 26, 2015
N/A

When Hookfang is drawn to a female Monstrous Nightmare, Snotlout tries to break them up before he loses his best friend forever.
Series
No.
Season
No.
Episode Title
Date
Aired
Prod.
Code
54
1
Team Astrid
January 8, 2016
N/A

After an attack on Berk, Astrid trains a crew of backup Dragon Riders to battle back -- but no one can guess how soon the next strike will hit.
55
2
Night of the Hunters, Part I
January 8, 2016
N/A

A new enemy named Ryker Grimborn captures Stormfly, sending Hiccup, Toothless and the team off to rescue her before it's too late.
56
3
Night of the Hunters, Part II
January 8, 2016
N/A

As Hiccup and Snotlout race to rescue the others from the Dragon Hunters, they don't realize that someone close to them is working with the enemy.
57
4
Bad Moon Rising
January 8, 2016
N/A

After a strange creature bites Tuffnut, he believes he'll turn into a legendary Lycanwing dragon when the moon is full. Can his friends save him?
58
5
Snotlout Gets the Axe
January 8, 2016
N/A

Snotlout and Astrid must deliver a special battle axe to a family wedding, but when an Armorwing dragon derails their plan they have to work together.
59
6
The Zippleback Experience
January 8, 2016
N/A

After Hiccup and Toothless heroically save Barf and Belch, the grateful Zippleback tries to repay its life debt by abandoning riders Ruff and Tuff.
60
7
Snow Way Out
January 8, 2016
N/A

Ryker is determined to create a key to the Dragon Eye, so he heads to Glacier Island to find the Snow Wraith that the Dragon Riders are protecting.
61
8
Edge of Disaster, Part I
January 8, 2016
N/A

When Ruffnut is captured by Dragon Hunters, it's up to Astrid and Tuffnut to defend Dragon's Edge from the invading Dragon Hunter army.
62
9
Edge of Disaster Part II
January 8, 2016
N/A

Unaware of the war on Dragon's Edge, Hiccup, Snotlout and Johann discover an island full of dragons that have been wounded by the Dragon Hunters.
63
10
Shock and Awe
January 8, 2016
N/A

When a new dragon is found in Edge Cove, the Dragon Riders must help the Sea Shocker escape a group of hungry Scauldrons.
64
11
A Time to Skrill
January 8, 2016
N/A

The Skrill returns with a grudge against Hiccup and Toothless, and the Dragon Riders must choose a new course of action to stop the vicious dragon.
65
12
Maces and Talons, Part I
January 8, 2016
N/A

Hiccup and Astrid race to stop the Dragon Hunters from tracking the Flightmare after Heather spills secrets from Viggo Grimborn.
66
13
Maces and Talons, Part II
January 8, 2016
N/A

After Heather and the Flightmare have been captured by Viggo and the Dragon Hunters, Hiccup must hatch a plan to outwit the dangerous new enemy.
Series
No.
Season
No.
Episode Title
Date
Aired
Prod.
Code
67
1
Enemy of My Enemy
June 24, 2016
N/A

While trying to take care of unfinished business, Hiccup and Toothless are lured into a trap. An unlikely rescuer comes to their aid.
68
2
Crash Course
June 24, 2016
N/A

A wounded Fireworm seeks the Dragon Riders' help in protecting a precious treasure trove against an unfamiliar creature with strange and slimy powers.
69
3
Follow the Leader
June 24, 2016
N/A

When things get out of hand while Fishlegs is left in charge, he seizes another chance to prove he has what it takes to be a leader.
70
4
Turn and Burn
June 24, 2016
N/A

Hiccup's and Snotlout's fathers put aside their differences and work with their sons as a team to defend a storehouse against an unusual invader.
71
5
Buffalord Soldier
June 24, 2016
N/A

After Astrid makes an alarming discover, her life comes to depend on a dragon everyone thought was extinct. Her pals race against time to find it.
72
6
A Grim Retreat
June 24, 2016
N/A

Hiccup reluctantly allows the Dragon Riders to go to a deserted island for a much-needed vacation, but the getaway has an odd effect on their dragons.
73
7
To Heather or Not to Heather
June 24, 2016
N/A

After learning that Fishlegs has been secretly communicating with Heather, the gang invites her to the Edge to convince her to join the Dragon Riders.
74
8
Stryke Out
June 24, 2016
N/A

When Hiccup and Toothless accidentally land in a Dragon Hunter trap, they find themselves the newest contestants in a gladiator-style arena.
75
9
Tone Death
June 24, 2016
N/A

Hiccup and his team rescue a dragon egg and bring it back to the Edge, where it hatches to reveal an ear-splitting surprise!
76
10
Between a Rock and a Hard Place
June 24, 2016
N/A

The gang investigates why Viggo's men are mysteriously shipping marble blocks from a quarry. Next, they try to save two dragons being used as slaves.
77
11
Family on the Edge
June 24, 2016
N/A

When Dagur unexpectedly shows up, Hiccup scrambles to prevent him and Heather from discovering each other's presence.
78
12
Last Auction Heroes
June 24, 2016
N/A

Snotlout is sent on a undercover mission to Viggo's dragon auction as part of a plan to rescue the dragons and stop Viggo from getting richer.
79
13
Defenders of the Wing, Part 1
June 24, 2016
N/A

When Viggo offers Hiccup a truce, the wary Dragon Riders investigate and find a potential ally in their fight against the Dragon Hunters.
Race to the Edge (Season 4)
Main article: DreamWorks Dragons: The Series#Upcoming seasons
The release date of the final 13 episodes is still unknown, but it will probably be the end of 2016 or the beginning of 2017. Season 4 will more than likely begin with "Defenders of the Wing, Part 2".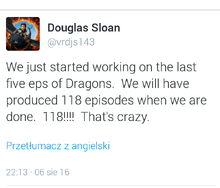 Douglas Sloan later confirmed there would be a total of 118 episodes.
Following
This series is meant to bridge the story between the first film and the second film. Chronologically, Dreamworks Dragons is followed by:
How to Train Your Dragon 2 - Released June 13, 2014
How to Train Your Dragon 3 - Set to release on March 1, 2019
References