Mani's Teardrop, named after the Norse god Máni, is a location introduced in Dragons: Rise of Berk.
Official Description
"Vikings mistook this cratered island for the realm of Mani, the Norse god of the moon."
Geography
This island is said to have a large crater, like those found on the moon, causing Vikings to mistake it for an indentation by the teardrop of Mani.
Appearances
Games
Unlocked at Level 85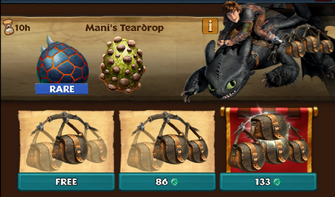 Time
10h
Cost of First Bag
86
Cost of Second Bag
133
Dragons Found
Small Shadow
Hotburple
Runes
36
Fish
3,150,000
Wood
3,150,000
Unlocked at Level ??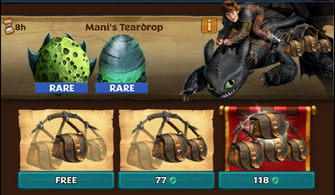 Time
8h
Cost of First Bag
77
Cost of Second Bag
118
Dragons Found
Alpha Shadow
Gobsucker
Runes
65
Fish
800, 000
Wood
800, 000
References