Mother's Shield is a location introduced in Dragons: Rise of Berk.
Appearances
Games
May 08, 2015 - May 11, 2015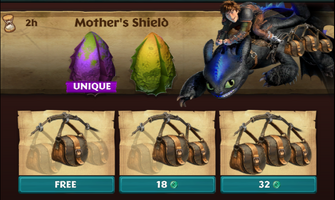 Time
2h
Level Unlocked
All
Cost of First Bag
18
Cost of Second Bag
32
Dragons Found
Gruff
Hobblegrunt
Apr 15, 2016 - Apr 18, 2016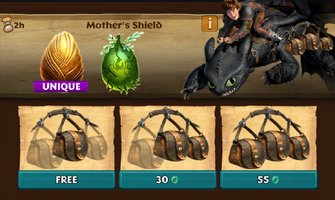 Time
2h
Level Unlocked
All
Cost of First Bag
30
Cost of Second Bag
55
Dragons Found
Hookfang
Snaptrapper
May 06, 2016 - May 09, 2016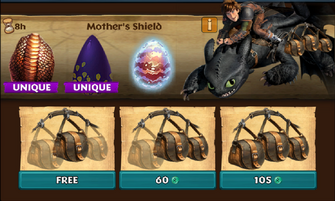 Jul 08, 2016 - Jul 11, 2016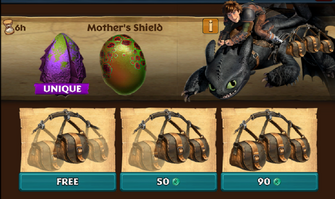 Trivia
This location is presumably one of Valka's smaller sanctuaries, due to the large number of her dragons (Cloudjumper, Gruff, her Seashockers) and the fact that she is a mother.
Gallery
References
The Barbaric Archipelago of
Lands undocumented in the Map
School of Dragons (Island)
Ad blocker interference detected!
Wikia is a free-to-use site that makes money from advertising. We have a modified experience for viewers using ad blockers

Wikia is not accessible if you've made further modifications. Remove the custom ad blocker rule(s) and the page will load as expected.