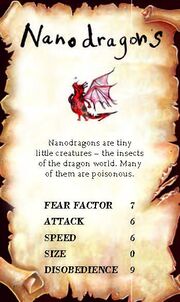 Nanodragons are a small breed of dragon.
In How to Speak Dragonese, the Fat Consul ate them as a snack. By switching one of the nanodragons for an Electricsquirm and electrocuting the Fat Consul, Hiccup rescues one who calls himself Ziggerastica and claims to be a god. Later on, Hiccup calls on Ziggerastica to rescue him and his friends from the Romans. By floating in the air with the help of several nanodragons, Hiccup convinced the spectators that he was the god Thor and got them to leave.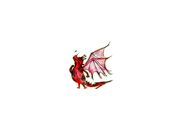 Ad blocker interference detected!
Wikia is a free-to-use site that makes money from advertising. We have a modified experience for viewers using ad blockers

Wikia is not accessible if you've made further modifications. Remove the custom ad blocker rule(s) and the page will load as expected.