Phlegma the Fierce
Talk

0
621pages on
this wiki
Phlegma the Fierce is a female Viking who features in the film adaption of How to Train Your Dragon. She is voiced by Ashley Jensen.
Profile
Phlegma first appears during the Dragon raid at the beginning of the film. She is later seen greeting Stoick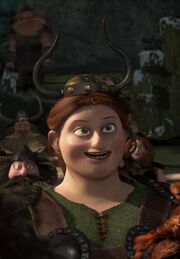 after his unsuccessful attempt to find the Dragons' Nest, congratulating him for Hiccup's skill in Dragon Training.
She joins Stoick and the other vikings in the attack on the dragons' nest, and witnesses Hiccup's victory over the Red Death.
HTTYD 2
Phlegma has a minor role in the sequel. She appears in the crowd watching the dragon races. She now has her own dragon; a dark gray Gronckle.
School of Dragons
Phlegma was originally planned to be the botanist in the School of Dragons online game, but was replaced with an original character called Flora May. A few months later, Phlegma took her place later.