Raven Point is mentioned in the original How to Train Your Dragon Movie, and used as a location to search with Toothless in the game, Rise of Berk.
Official Description
"This wooded mountain top is where Hiccup and Toothless first met. Though neither one of them knew it at the time, that encounter would change the course of Vikings and Dragons forever!"
Appearances
" It went down just off Raven Point. Let's get a search party out there..."
― Hiccup
Raven Point is the place where Hiccup shot down Toothless. It is briefly mentioned by Hiccup when telling Stoick where he hit a Night Fury. It is also possible it makes an appearance when Hiccup cuts the bola ropes off Toothless.
Unlocked at Level 9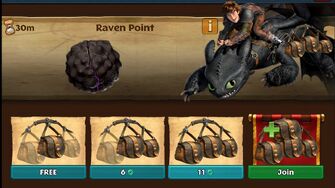 | | | | |
| --- | --- | --- | --- |
| Time | | 30m | |
| Cost of First Bag | | 6 | |
| Cost of Second Bag | | 11 | |
| Dragons Found | | Smothering Smokebreath | |
| Runes | | 5 | |
| Fish | | 850 | |
| Wood | | 850 | |
References
The Barbaric Archipelago of
Lands undocumented in the Map
Caves of Jotunn (Underworld)
Knaff (The Stowaway)
Labyrinth of Lost Souls (The Ice Castle)
Mouth of Fafnir (Dangers of the Deep)
Northlands (The Ice Castle)
Odin's Grassland
Pointy Point
Puffin Point
Quaking Cavern
Queen's Cove
Raven Point
Rejuvenisle
Resolution Reef
Scauldron Island (RTTE Map)
School of Dragons (Island)
Screeching Woodlands
Sleipnir Island (RTTE Map)
Snoggletog Island
Sorrow Island (sunken)
Sparkfire Mountain
Speed Stinger Island (RTTE Map)
Sunken City (RTTE Map)
Sunstone Island (sunken; RTTE map)
Swarmlands (RTTE Map)
Tall Tree Island (sunken)
Team Hiccup
Team Snotlout
Tender Tides
The Little Isles
The Long Beach
Thor's Bluff
Thor Rock Island (sunken, RTTE Map)
Thorstopia
Thunderclaw Island (RTTE Map)
Thunderhead Bay
Towering Timberland
Uglythug Lands
Utgard-Loki (The Ice Castle)
Wildwood Shores
Whispering Death Island (RTTE Map; "Wispering" in ROB)
Ad blocker interference detected!
Wikia is a free-to-use site that makes money from advertising. We have a modified experience for viewers using ad blockers

Wikia is not accessible if you've made further modifications. Remove the custom ad blocker rule(s) and the page will load as expected.