| | | |
| --- | --- | --- |
| " | So, Scauldy, I'm guessing you're as freaked out as I am right now. But if you don't kill me, I would really appreciate it, and... Whoa. Hi. Hey, Scauldy. | " |
|   | — Ruffnut taming Scauldy |   |
Scauldy is a Scauldron that appeared in the thirteenth episode of Dragons: Defenders of Berk, "Free Scauldy".
Biography
Scauldy first appears in "Free Scauldy", where the gang find him trapped after a shake happened and pinned his wing under boulders. Although initially aggressive towards the teens, he quickly warms up to Ruffnut which allows the others to remove the boulders. As they begin making a splint for him, the gang realize that there wasn't enough rope. Using quick thinking, Ruffnut cuts her own hair off to finish making the splint for Scauldy, allowing him to escape from Changewing island.
Personality
Scauldy was initially aggressive towards the gang and absolutely refused any help from them, even to the point of attacking Hiccup, but he took a quick liking to Ruffnut because her hair smelled of fish oil, which smelled like his home as he is a water-dwelling dragon. He is shown to be attached to the ocean, where he lives, as well as becoming protective of Ruffnut. Scauldy is fairly smart and is able to understand Ruffnut when she is talking to him, despite being a wild dragon and (possibly) never hearing human speech. He cares for Ruffnut and also tried to convince her to leave him when the Changewings attacked. He is shown to enjoy Ruffnut singing to him and would look crossly at her when she stops in between. He would also wince or look at her with a scared/angry expression when she sang things like "mash up all your bones"...
Relationships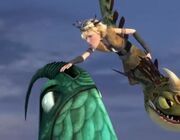 Although aggressive, he quickly warms up to Ruffnut after smelling the fish oil Ruffnut puts on her hair to make it look unwashed and greasy, which reminded him of his home. The two become fast friends and they form a strong bond towards each other. Each are willing to risk their life for the another. Ruffnut in particular, sacrificed her hair by cutting it so that her hair may be used to finish the splint for Scauldy. Scauldy is also shown to be concerned for the well-being of Ruffnut as he was trying to convince her to leave him when the Changewings were attacking. Scauldy is shown to be extremely grateful to Ruffnut for saving him and possibly will remember her until they meet again.
Trivia
Scauldy seems to be larger than the Scauldron in "Dragon Flower".
Scauldy was originally going to be named "Scalding Painful Death" which was a name made up by Tuffnut, but it was dropped after Ruffnut comes up with the name "Scauldy."
Scauldy lacks the head tendrils that Scauldrons possess.
Scauldy could debatably be the opposing counterpart of Torch.

Scauldy was trained by Ruffnut, Torch was trained by her twin Tuffnut.
Scauldy is a Tidal Class dragon (dwells within the water and sprays water), while Torch is a Stoker Class dragon (dwells on land and manipulates fire and air to attack).
Scauldy was hostile and a danger to the Viking teens, while Torch was civil and friendly from the beginning. 
Torch was the one who (partially) saved Tuffnut and Ruffnut was the one who saved Scauldy.

There were rumors that Heather would return in Dragons: Defenders of Berk and train her own Dragon, a Scauldron named Spout. Even though this was eventually deleted, it may have been the inspiration for the character and episode.
Scauldy makes a small appearance in School of Dragons as part of a quest to retrieve Spitelout's fishing rod.
Dragon Characters of
Night Fury: Toothless • Unnamed Light Fury


Skrill: Brute Skrill • Defender Skrill • Frozen Skrill • Helpful Skrill • Hunterbolt • Icebane • Spark Guard • Sparkheart • Viggo's Skrill
Snow Wraith: Frostfright's Big Bro • Frostfright's Lil Sis • Gothi's Frostfright • Skrill Chiller
Threadtail: Foliander • Mildew's Strain • Sunsoak
Triple Stryke: Champion Triple Stryke • Eclipser • Nikora's Triple Stryke • Sleuther • Starstreak • Thorntail • Triple Strype
Woolly Howl: Defender Woolly Howl • Infected Woolly Howls • Wise Wind

Fireworm: Defender Fireworm • Flashfright • Royal Fireworm • Snotlout's Fireworm Queen


Flame Whipper: Baby Flame Whipper
Hobblegrunt: Defender Hobblegrunt • Gruff • Primal Hobblegrunt
Red Death: Green Death • Red Death
Moldruffle: Exotic Moldruffle • Greenkeep
Monstrous Nightmare: Astrid's Monstrous Nightmare • Brisket, Saddle, Chuck, Rump, Loin, Scrag, Cutlet, Ham Hock, Sausages, Offal, Knuckle, and Pot Roast • Cagecruncher • Defender Monstrous Nightmare • Exiled Monstrous Nightmare • Fanghook • Firescrapes • Girl Hookfang • Hookfang • Hookfang's Mate and Offspring • Hookfang's Nemesis • Hookfire, Fangmaster and Hookblazefang • Liberated Whip-Wreck • Sven's Nightmare • Valka's Mercy • Viggo's Savior • Whip-Slash
Night Terror: Darkvarg • Hotshot • Nightwatch • Peggy • Sacred Terror • Seedling Night Terror • Smidvarg • Tarred Night Terror
Singetail: Ambered Singetail • Captured Singetail • Deathlout • Flamelout • Heatlout • Hotlout • Krogan's Singetail • Mother Singetail • Scorch • Stoick • Winterwick
Terrible Terror: Butt and Head • Defender Terrible Terror • Gothi's Pet • Iggy • Kick-off Terrors • Leopold • Pain • Sharpshot • Sneaky
Typhoomerang: Defender Typhoomerang • Helpful Typhoomerang • Pyre-Flier • Skyfire • Torch • Torch's Mother • Torch's Siblings • Trap-phoomerang • Viggo's Typhoomerangs

Bewilderbeast: Berserker Bewilderbeast • Drago's Bewilderbeast • Valka's Bewilderbeast


Luminous Krayfin: Lumie
Sand Wraith: Helpful Sand Wraith • Seedling Sand Wraith
Scauldron: Bonecrusher's Conquest • Bumble • Defender Scauldron • Exotic Scauldron • Mildew's Misery • Scauldy • Snorre's Scauldrons • Thunderfish
Seashocker: Bolt & Float • Covecharger • Defender Seashocker • Nikora's Seashocker • Rane & Shyne • Soaky and Wetty • Valka's Three Seashockers • Viggo's Seashockers • Wavewight
Shellfire: Viggo's Titan Wing Shellfire
Shockjaw: Boltbite • Deepfreeze • Defender Shockjaw • Exotic Shockjaw
Sliquifier: Defender Sliquifier • Exotic Sliquifier • Grazefall • Splashspout • Surflurker
Submaripper: Deepkeeper • Mariner's Myth • Shipsbane
Submaripper (comics): Bargemine • Exotic Ripwrecker • Rogue Submaripper • Sinker-Claws
Thunderdrum: Bam • Bing • Boom • Champerone • Defender Thunderdrum • Earsplitter • Eret's Thunderdrum • Lil Lullaby • Thornado • Whirlwing
Tide Glider: Defender Tide Glider • Exotic Tide Glider • Lake Skater • Mistmenace
Windwalker: Skykarver

Catastrophic Quaken: Aurum • Captured Quaken • Champion Catastrophic Quaken • Four-Man • Melonquarry • Tormentor • Trained Catastrophic Quaken • Spikeback


Eruptodon: Coaldron • Great Protector • Helpful Eruptodon • Magmadon • New Protector
Grapple Grounder: Defender Grapple Grounder • Exotic Grapple Grounder • Fierce Piercer • Sour Grapple
Groncicle: Defender Groncicle • Sweetcicle
Gronckle: Book Wyrm • Cheesemonger • Defender Gronckle • Exiled Gronckle • Gothi's Gronckle • Injured Gronckle • Meatlug • Meatlug's Mate • Meatlug's Offspring • Shattermaster • Thaw Fleet • Tuffnut Junior, Junior Tuffnut and Junior Tuffnut Junior • Yawnckle
Hotburple: Basket Case • Bedrock Terror • Chartooth • Defender Hotburple • Grump
Screaming Death: Trained Screaming Death
Sentinel: Elder Sentinel • Silent Knight
Shovelhelm: Clawlifter • Exotic Shovelhelm • Gnawhelm • Guslout
Snafflefang: Defender Snafflefang • Eggfang • Irontooth • Lump • Primal Snafflefang • Yakstacker
Thunderpede: Colorcrunch • Defender Thunderpede • Exotic Thunderpede • Furnace • Stonewall
Whispering Death: Death Ride • Defender Whispering Death • Exotic Whispering Death • Gravedigger • Groundsplitter • Helpful Whispering Deaths • Hiccup's Baby Whispering Death • Screaming Death's Siblings • Toothless' Nemesis • Trailtwister • Trained Titan Wing Whispering Death

Egg Biter: Chompers • Coppertop • Egg Blossom • Exotic Egg Biter • Nipper


Hackatoo: Defender Hackatoo • Exotic Hackatoo • Hackagift
Prickleboggle: Helpful Prickleboggle • Krustler • Seedling Prickleboggle • Skypiercer
Raincutter: Defender Raincutter • Icecutter • Puddlemuck • Thump
Razorwhip: Exotic Razorwhip • Fighter Razorwhip • Lashbane • Sawtooth • Windshear • Wingnut
Scuttleclaw: Budbite • Defender Scuttleclaw • Helpful Scuttleclaw • Scuttleclaw Hatchlings • Slushclaws
Shivertooth: Exotic Shivertooth • Helpful Shivertooth • Quiverpain
Speed Stinger: Exotic Speed Stinger • Fighter Speed Stinger • Icebreaker • Lead Stinger • Mala's Three Speed Stingers • Seedling Speed Stinger • Speedy • Sweet-Sting
Stormcutter: Brute Stormcutter • Cloudjumper • Defender Stormcutter • Exiled Stormcutter • Marinecutter • Reignstorm • Wonderclap
Thornridge: Gloomshadow • Primal Thornridge • Thornshade
Timberjack: Axewing • Brute Timberjack • Dammen's Timberjack • Defender Timberjack • Lonewood • Soaring Sidekick • Stokehead • Stoneslice • Taxi
Windstriker: Boiling Billows • Defender Windstriker • Galesplitter • Retired Windstriker • Snaggletooth • Winged Warden

Armorwing: Bandit • Coldsnap • Gresskarmor • Irongaze • Knocks • Liberated Haulmauler


Boneknapper: Boneshedder • Brute Boneknapper • Dammen's Boneknapper • Defender Boneknapper • Gobber's Nemesis
Buffalord: Big Buff • Big Snuff • Boarcharger • Brute Buffalord • Exotic Buffalord • Mosster
Cavern Crasher: Exotic Cavern Crasher • Firecomb Crasher • Schmoozer • Slimeball • Slimeslinger
Changewing: Baby Changewing • Defender Changewing • Edgewing • Incognito • Phantom • Snuffnut • Springwing • Tuffwing
Death Song: Exotic Death Song • Garffiljorg • Garff's Adoptive Father • Sirenade
Dramillion: Fishlegs' Dramillion • Titan Wing Dramillion
Flightmare: Defender Flightmare • Exotic Flightmare • Hofferson's Bane • Injured Flightmare • Skystreaker • Trancemare • Viggo's Flightmare
Gobsucker: Gobstinker • Muddlehunt • Sparklestank
Hideous Zippleback: Barf and Belch • Defender Hideous Zippleback • Barf and Belch's Mate • Barf and Belch's Offspring • Exiled Hideous Zippleback • Fart & Sniff • Sparkle & Sparks • Sparks and Spew • Titan Wing Zippleback • Whip and Lash
Sandbuster: Frostbiter • Marooned Mukchucker • Wild Sandbuster
Slithersong: Dazzlesing
Smothering Smokebreath: Defender Smothering Smokebreath • Dustbrawler • Exotic Smothering Smokebreath • Flutter-Fog • Gritpicker • Helpful Smokebreath • Rattling Smokebreath
Snaptrapper: Brute Snaptrapper • Death & Chocolates • Defender Snaptrapper • Outsnapper • Snappy
Sweet Death: Defender Sweet Death • Exotic Sweet Death • Helpful Sweet Death • Masked Sweet Death • Seedling Sweet Death
Sword Stealer: Broken Blade • Defender Sword Stealer • Exotic Sword Stealer • Gleamer

Deadly Nadder: Ambered Nadder • Bork Week Nadders • Defender Deadly Nadder • Edge Nadder • Flystorm • Infected Deadly Nadders • Kingstail • Scardian • Sick Deadly Nadder • Springshedder • Steeltrap • Stormfly • Stormfly's Mate • Stormfly's Offspring • Vaynglory


Mudraker: Muddie
Rumblehorn: Defender Rumblehorn • Poise the Vast • Rumblehorn Hatchlings • Seedling Rumblehorn • Skullcrusher
Snifflehunch: Pestbud • Primal Snifflehunch • Scentinel • Seedling Snifflehunch • Snifflestone
Submaripper: Deepkeeper • Shipsbane • Mariner's Myth
Thunderclaw: Aurvandil • Bonesnarl • Defender Thunderclaw • Rumpus • Sailback
Windgnasher: Auroara • Champion Windgnasher • Gnarley • Gustnudger


Deathgripper: Grimmel's Deathgrippers


Shadow Wing: Marooned Greezer • Snogglewing
Small Shadow: Baited Breath • Spring's Shadow