Slavemark
Talk

0
388pages on
this wiki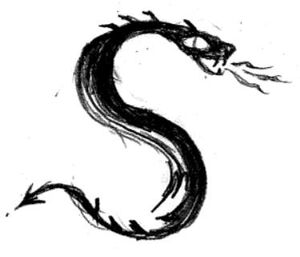 The Slavemark is described as 'the ultimate mark of shame in the Archipelago' in the ninth book, How To Steal a Dragon's Sword. It is given to mark one as a slave, and is impossible to remove. If someone is shown to have the slavemark, they are to be instantly banished from their tribe and forced to live in slavery forever. It looks like a thin dragon curled into the shape of an S.
In The Books
Edit
The slavemark first appears in the series in the seventh book, How To Ride a Dragon's Storm. Bearcub's Grandmother, a Wanderer slave, gives Hiccup the slavemark to make him keep his promise. Later, in the ninth book, How to Steal a Dragon's Sword, The witch Excellinor reveals Hiccup's slavemark, banishing him from the tribe and sentancing him to slavery, along with his father.
In How to Seize a Dragon's Jewel, Valhalarama had given the Mark to herself and renamed it the Dragonmark, saying it should be given to those who would follow Hiccup as their King. Soon many other Vikings accepted Hiccup and took the Mark.
Characters known to have the Slavemark
Edit
Unidentified Wanderer slaves on The American Dream 2
Other vikings