Snotface Snotlout
Talk

0
388pages on
this wiki
Snotface Snotlout, known as Snotlout Jorgenson in the film, is the snout-nosed son of Hiccup's uncle, Baggybum the Beerbelly, making him Hiccup's cousin. Snotlout hopes to be the chief one day despite the fact that Hiccup is the true heir; however, if something were to happen to Hiccup, Snotlout would be next in line for the position. The two are well aware of this fact which has spawned a hatred between them. Unlike his cousin, Snotlout is strong, hearty, and excels at being a Viking. He owns a Monstrous Nightmare named Fireworm, despite a longstanding Viking tradition stating that only the son of the chief can possess one.
In the film
In the film, he is seen without his titular snout and has an obvious crush on Astrid. He tries on several occasions to flirt with her through various means, such as by "impressing" her with his strength or ability to block out the sun, though he fails each time. When Hiccup teaches the Viking youths how to befriend dragons, Snotlout seems to be the only one who is actually afraid, reaching for a spearhead before Astrid discourages him. Under Hiccup's tutelage, he successfully befriends a Monstrous Nightmare, which he flies during the battle with the Red Death, though he is knocked off and forced to attack its eyes head on (and is somewhat successful).
He is never mentioned to be Hiccup's cousin in the movie (though it is mentioned in the website).
Although he would often taunt Hiccup over his lack of skill, he never seemed to hold the same level of dislike for him that he did in the books. When Hiccup starts doing well in Dragon Training, Snotlout quickly joins the ranks of his adoring fans. When Hiccup is shown to have survived his encounter with the Red Death, Snotlout actually sheds a tear in relief.
In Dragons: Riders of Berk
In the TV series, Snotlout is one of the main dragon trainers. Like Ruffnut, he has a different voice actor. His dragon,
Hookfang
, often disrespects Snotlout, and almost never follows his commands. When the dragons are exiled, Hookfang is the only one to run away. Despite this, Snotlout has shown that he cares for Hookfang, begin particularly relieved when the dragon - who had seemingly gone mad and was rampaging through the village, to the point where it appeared that Gobber would have to kill him- turned out to merely be suffering from toothache (Although he attempted to pass off his enthusiastic hug of Hookfang after the tooth was taken out).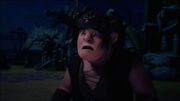 When Hiccup, Toothless and Snotlout were stranded on Outcast Island, Snotlout managed to successfully hold his own against an adult Outcast in a fight when armed only with a metal rod (although he still required Toothless's help to defeat his opponent). Snotlout has proven that in some ways he can back up his boasting. He is usually an able fighter (when not trying to impress the ladies), and he is in very good physical shape. He wins all the Viking based Thawfest games with relative ease. Only when dragon events are introduced does he struggle. He still wins the Thawfest games, but only because Hiccup allows him to. Even with Hiccup's good sportsmanship in the end, Snotlout remains completely ungrateful and gloats in his victory.
The stranding on Outcast island forced Hiccup and Snotlout to work together. It was a seriously rough time because both boys were rivals, and Snotlout was intentionally provocative. Eventually Snotlout lost his temper enough to vent hugely hurtful insults at Hiccup and to really unintentionally reveal a slight twinge of envy over Hiccup's popularity and courage. But even after all their fighting, Snotlout was quick to come and aid in Hiccup's rescue. He and Toothless worked well together as a team and saved Hiccup from the Outcasts who had captured him. The episode ended on a very high note for Hiccup and Snotlout with both boys seeming to gain a much greater appreciation for one another.
Memorable Quotes
"Hiccup already killed a Night Fury, so, does that disqualify him...or....?"
"So anyway, uh, I moved into my parents' basement? You should come by some time to work out. You look like you work out!"
"Why read words when you can just kill the stuff the words tell you stuff about?"
"Watch out babe, I'll take care of this..."
"The 'sun' was in my eyes, Astrid! What do you want me to do, block out the sun? I can do that, but I don't have the time right now!
"I'll avenge your beautiful hand and your beautiful foot! I'll chop off the heads of every dragon I find, with my face!"
"That may work for you and Toothless, but me and Hookfang do things differently. WHen I want him to drop something I just get right in his face and say DROP THAT RIGHT NOW! YOU HEAR ME!" [Gets picked up by Hookfang] "See, he dropped it."
"Can someone do that chin scratchy thing?"
"That is Snoutlout manor, and all I need now is a queen".
"She may have been trained a warrior, but I was born a warrior!"
"Conqueror? Come on! I'll show Alvin who's a conqueror. For you sir?"
"Remember, I get to keep her."
"Pig headed dragon."
"Snotlout, Snotlout, Oy Oy Oy!"
"What are you looking at?"
"I can't lose. I can't lose."
"Go. Suck. Rocks."
"How long do I have to keep my tongue in this? I saw Toothless spit in it!"
"Hookfang! I'm still mad at you!"
"No, it's my shiny!"
"Way to go Hookfang.... go away Hookfang!"
"Now that's how you rescue somebody!"
Trivia
Snotface's helmet has ram horns.
In the film, a man is seen at Stoick's side who bears a remarkable resemblance to Snotlout. This man is Spitelout, Snotlout's father, but in this version, he is not Stoick's brother.
 He has a Monstrous Nightmare named Fireworm in the books, but in the film, its name is Hookfang.
Snotlout was originally going to be a girl in the film.