"With Vikings on the backs of dragons, the world just got a whole lot bigger."
| | |
| --- | --- |
| | This article is a stub and would benefit greatly with more information. You can help by expanding it. |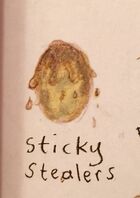 The Sticky Stealer is a dragon species mentioned once. Only the egg of the is shown though. Nothing is written about them in terms of their traits or abilities. Based of the picture of their egg and the 'sticky' in their name, these dragons must be gooey in some way. As for the 'stealer' portion, well, perhaps they have klepto tendencies.[1]
References