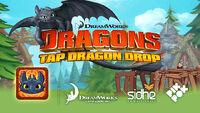 "With Vikings on the backs of dragons, the world just got a whole lot bigger."


This article is a stub and would benefit greatly with more information. You can help by expanding it.
Tap Dragon Drop is a videogame designed by PikPok and Sidhe, and released on iTunes.
Description
This is Berk… where a great storm has struck the Viking village and sheep are now scattered throughout the land! Save the day by using your wits and new Dragon friends to solve puzzles throughout the dangerously funny, sheep-unfriendly world of Berk!
Tap, Drag and Drop your Dragon's powerful abilities to rescue the flock. Use catapults, drawbridges and much more to your advantage as you explore the breath-taking Dragon world.[1]
Source
Media
Ad blocker interference detected!
Wikia is a free-to-use site that makes money from advertising. We have a modified experience for viewers using ad blockers

Wikia is not accessible if you've made further modifications. Remove the custom ad blocker rule(s) and the page will load as expected.