"The Thor'sday Thursday Festival is the biggest event of the year. EVERYBODY who is ANYBODY will be there, all the Hairy Hooligans AND the Meatheads."
―Hiccup to Old Wrinkly in Book 1
In How to Train Your Dragon, the holiday of Thors'day Thursday is mentioned. It is also spelled Thor'sday Thursday.
History
It is not stated when or why Thors'day Thursday started, though it might have some religious connection to the Norse God of thunder, Thor. It is also not clear if this is an annual event or more or less frequent.
Venue
The celebration takes place on the Isle of Berk along the island's Eastern shore. Visitors and off-island participants set up camp along Black Heart Bay. Vendors and performers set up shop at the Long Beach.
"The visitors set up camp in Black Heart Bay, which turned overnight from an empty desert of echoing seagulls into a bustling village of tents made out of sails too patched to be used at sea anymore."
―Book 1
"By the next morning the Long Beach was packed with stalls and jugglers and fortune tellers."
―Book 1
Events
According to the Event Program, there are several events taking place during the festival.
Hammer-throwing for the over-60s only
"Meet up at the Marooner's Rock with your own hammer or somebody else's (hard hats essential for spectators)."
―Program of Events
How Many Gulls' Eggs Can Your Eat in One Minute?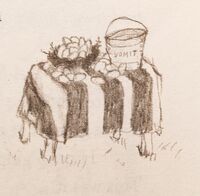 This year, Gobber the Belch vomited his eggs. It is not stated who won the event.
Ugliest Baby Contest
Goggletoad is declared the winner, winning a bet for Stoick the Vast.
Axe-fighting Display
"Admire the delicate art of fighting with axes."
―Program of Events
Hiccup's family - Stoick, Valhallarama, and Hiccup - had a picnic overlooking the axe-fighting demonstration.
Young Heroes Final Initiation Test
"Watch tomorrow's heroes as they compete. Whose dragon will be the most obedient, and whose will catch the most fish? Blood, teeth, loud yelling - this sport has everything."
―Program of Events
Grand Raffle and Closing Ceremony
This year, the festival ended abruptly and did not make it to the Raffle.
Trivia
"Thor's Day" is actually the origin of the word "Thursday". Thor is the Norse god of thunder.
The Practices in