I HAVE HOW TO TRAIN YOUR DRAGON ON DVD! AT LAST! So far I have watched it a lot, and I'm not bored of it. Except now I have dragons in my brain. Test of my memory:
My opinion
I prefered the film to the book series, actually...
And Chapter 6 of Vengeance of Atlantis had the most disturbing ending...
About me
How to Train Your Dragon is my favourite film ever! I am always looking for pictures and websites about How to Train Your Dragon, and that is how I found this! Since then I have created my account,
Toothless99
, and my own wiki -
iceagedinosaurs.wikia.com
, and helped and edited lots of wikis, including this wiki, Ninja Warrior Wiki, Total Wipeout Wiki, Are You Smarter Than A Ten Year Old Wiki, three dinosaur wikis, Jurassic Park Wiki, Jurassic Park Fanon Wiki, and of course, my four wikis, one of which (HTTYD Fanon) is partnered with this wiki.
I'm waiting now for November 15th - this is when How to Train Your Dragon comes out on DVD in the UK. They are also going to be selling (in th UK, at least) a DVD Double Pack, featuring the film and a brand new adventure. I'm so excited! Almost time for me to get the DVD! (it will be all I ever watch because How to Train Your Dragon is the bestest film in the history of everer (I know some of the words I used don't exist, but who cares?)).
I have a lot of pictures saved to my computer about How to Train Your Dragon - 265, in fact, which is more than this whole wiki has! (I didn't upload all the images, though)
If you want to leave a message on my talk page, please do.
One last thing - please visit my blogs, listed below:
User blog:Toothless99/Who is your favourite character? and why?
User blog:Toothless99/My Dragon
I have How to Train Your Dragon on DS!
I got it for my birthday. I've been wanting it for ages! For my character I picked Astrid and now I'm doing really well. I have a Deadly Nadder named Astra, a Night Fury named Destiny, a Hideous Zippleback named Astricup (Hiccup and Astrid, because Zipplebacks have two heads!), a Gronckle named Gruff, a Monstrous Nightmare named Fury, and a Grapple Grounder named Champ. I'm on the fifth map section, the mountains. I have cobalt and emerald armour, which is the best armour, and I have 13750 HP points (hit points). If you don't have it, you should really get it! It is REALLY good.
My Dragon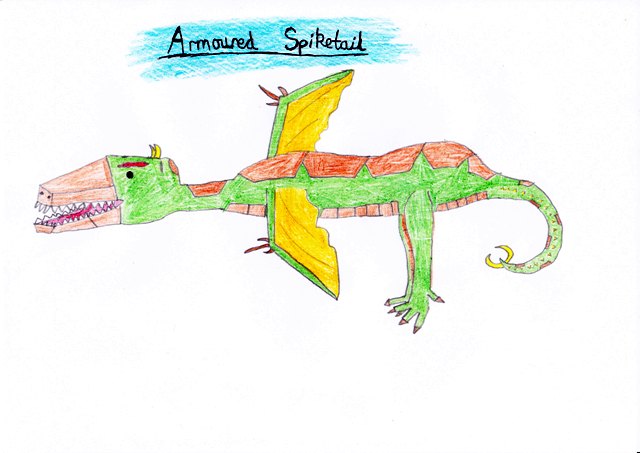 This is my dragon I designed, the Armoured Spiketail. I call it that because it has spikes on its tail, and its body is covered in brown armour. It's wings are small in comparison to body size, so it's not a confident flier, but its fire is very hot and dangerous. Please leave a message on my talk page if you have anything to say about it.
My favourite quotes
"Who ish this tall gentleman? He keepsh getting in my way" - Toothless in How to Ride a Dragon's Storm (he is drunk and 'this tall gentleman' is the mast of a ship!)
"Toothless in Rome. OR up the chimney" - Toothless in How to Ride a Dragon's Storm (He has been sneaking into the kitchen and is looking for an excuse to get out of trouble)
"Sit on me and put me in the toilet with the Bog Burglar heir" - Alvin the Treacherous in How to Speak Dragonese (trying unsuccessfully to tell a Gronckle to put Hiccup and Fishlegs in the tower with the Bog Burglar heir)
"Thank you for nothing, you useless reptile!" - Hiccup to Toothless in the How to Train Your Dragon film
My favourite pages