==
Golden Fireball==
Golden Fireball Race:Dragon Personality:Shy, Doesn't like to be seen, High tempered Hah!Factor:When not curled up its fire blast isn't much of a threat AHH!Factor: When Curled up in a ball it shoots five simotanious fire blasts so watch out. Size: 5in long 2in wide Fire limit: 8 Weapons: Fire blast, claws, teeth
Description
The smallest dragon inthe dragon world with a length of 5in and a width of 2 this little dragon has a rather small fire breath and some question why it is in the stoker class. it comes in all shades of yellow and the acational red orange.
Behavior
The Golden Fireball is very shy and uses its size to hide from predators and humans. To train one you need to treat it like a bird and let it land on your finger, even the slightest sound will scare it away. It does not like to be seen so it curls up into a ball an flies. if it happens to be seen most people think its just a glare of the sun. When in ball form it blasts five simotaneous fire blast which is why it is in the stoker class.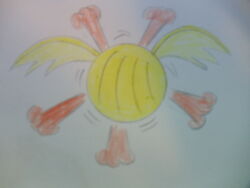 Ad blocker interference detected!
Wikia is a free-to-use site that makes money from advertising. We have a modified experience for viewers using ad blockers

Wikia is not accessible if you've made further modifications. Remove the custom ad blocker rule(s) and the page will load as expected.