Welcome
Hi, welcome to How to Train Your Dragon Wiki! Thanks for your edit to the File:DoubleTrouble.png page.
Please leave a message on my talk page if I can help with anything! -- Station7 (Talk) 06:45, March 5, 2013
Grump
Hello! I was wondering where you found the Grump picture? StaticTheSkrill (talk) 00:27, April 19, 2014 (UTC)
Hi i wanted to know if it was possible for you to get a full color image of the hackatoo just like you did with the sand wraith? --Jediknightanakin1114 (talk) 14:39, August 4, 2014 (UTC)
Sand Wrait
Hi! I read your meassage and I wana to tell you that the user Thorndrum told me about the Sand wrait's fire type.He told me about the Tidal glider and the Hackatoo's fire too but I didn't write another fire types that he told me because I wasan't sure,but the Sand wrait's fire type was the most original fire type.He also sayd that he know that fire types from Book of dragons,so possibly he has the game.Anyway,if you wanat to know,the Hackatoo can shot normal fire and the Tide glider can shot purple flames-NighttheNightfury,07.08.2014
RoB pngs
Just seen your dragon images from Rise of Berk, they look great and I'd like to use them on the RoB wiki. Are you creating them using photoshop? If so where are you getting the original images from, we might be able to provide you with some of the ones you don't have. Twentypence (talk) 07:12, August 8, 2014 (UTC)
Thanks for the info, we've just added a whole bunch of the Facebook images into the Rise of Berk wiki, if you're interested you can find all our dragon pages here: http://riseofberk.wikia.com/wiki/Category:Dragons Twentypence (talk) 21:11, August 8, 2014 (UTC)
Awesome! Thanks :D
Rise of Berk - Dragon Abilities
Thank you for seperating everthing!!! It's exactly as I imagined it! 
It's super awesome :D and it no longer lags like mad just to do an edit. 
If i knew more about computer coding I would of done it... lol took me half a day just to figure out how to make a new template for level 51-60 for all of them. 
WingIt22 (talk) 14:39, August 10, 2014 (UTC)
Tabview
Hey, I like you using tabview on the Hiccup page. Very much organized. You think you can you do the same to the rest of the pages please? Oh, and one more thing. How do you do tabview on a page? MerlinTheFairyFox 8-16-2014 10:59 (UTC)
Where did you get this photo? It is slightly wrong but some of them may be true.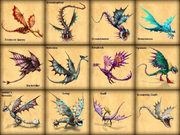 Fireworm Queen is fine
Groundsplitter is fine
Groundshaker is actually just a Titan Whispering Death
Bioluminous is well.. I dont know you tell me where you got Bioluminous from.
Rockdriller is well.. I dont know you tell me where you got Rockdriller from.
Rainclaw is well.. I dont know you tell me where you got Rainclaw from. (this is kinda getting annoying :P)
Fanghook is fine.
Flystorm is well.. I dont know you tell me where you got Flystorm from.
Gobber's Nemesis is fine.
Lump is fine.
Gruff is fine.
Screaming Death is fine.
I just want to know where you got the names Bioluminous, Rockdriller, Rainclaw and Flystorm. Were these made up or did you find it from someone or some official source?
I didn't upload that picture, I just edited the unnecesary black parts. You should check the image's history.Neilandio (talk) 21:31, August 29, 2014 (UTC)
I'd like to point out that Groundshaker is not just a Titan Whispering Death.  The Titan image is somewhat different.  That said, I have no idea where Groundshaker is actually from.  I like to think it's Toothless' rival from the show, but again, that's just my theory.  Thanks.  Noctilida (talk) 23:09, August 28, 2014 (UTC)
Rise of Berk images of dragons with no background.
I noticed some images that I need your help with.
Here something no one else did.
https://www.facebook.com/DragonsRiseOfBerk/photos/pb.731938696837215.-2207520000.1410903223./790895440941540/?type=3&src=https%3A%2F%2Fscontent-b-ams.xx.fbcdn.net%2Fhphotos-xpf1%2Fv%2Ft1.0-9%2F10390983_790895440941540_3299616733877307429_n.png%3Foh%3Db945aa8909ed153dd0dc17a68d0d926e%26oe%3D54D0DFA4&size=600%2C600&fbid=790895440941540
The one we have now is just way to small and not worth it putting it anywhere.
And now here something more challenging. Again no one else did it with no background until now, after all this time.
http://riseofberk.wikia.com/wiki/File:Toothless_Titan.jpg
There are a few more that need to be done the way you do it because they are just not good enough quality or are poorly done. I see you didn't answer to my message in the Rise of Berk wiki so I ask here. I can't do these without your help. Some of the dragon images that some other ppl did are just not worth it. Your are the best quality and are the same size as the original image with the background.
Hi. I was just wondering where you got the battle gronkle and battle monsterous nightmare photo from? Just wanted to know thanks if you tell me.
The facebook page posted an image with both of them in it. Neilandio (talk) 22:37, October 13, 2014 (UTC)
oh i remember that's what I have revealed a dragon name is Sailback right?
hello
hey their Dragodino123 (talk) 23:45, July 10, 2015 (UTC)
Hi, what can I help you with?Neilandio (talk) 01:41, July 11, 2015 (UTC)
how strong do u think Monstrous Nightmare are?
How strong do u think nightfury are i dont think they strong as monstrous nightmare but just better combat?
Never revert Freeze and Zapp back to Torch's Siblings!!
Endless Night
Please tell me where you found that cover! I am super excited about it! Looks like we finally get a real female villian, one with an interest in Hicucup too! XD NightFuryLover31 (talk) 00:10, October 15, 2015 (UTC)
Here: http://www.previewsworld.com/Catalog/OCT151688  Neilandio (talk) 16:19, October 15, 2015 (UTC)
Class
Shovelhelm uses its chin to dig, and its head works as a hammer, I think its obviously Boulder class. Snifflehunch tries to get as close as possible to you, to sniff out if you're a friend or an enemy, its obviously a member of Tracker class. Thorndrum (talk) 14:09, October 22, 2015 (UTC)
Maybe they are, but until we get official confirmation their class is unknown.Neilandio (talk) 14:21, October 22, 2015 (UTC)
Jorgen?
He appeared in The Stowaway. I believe the information should be on this page.CC-1990 (talk) 20:10, October 27, 2015 (UTC)

Hi! I saw you redid some things on the Zebramount page after I edited it. It looks better! I am new here and wikia is a bit hard to grasp. How did you get the info box to look like that? I was hoping to do that with other book dragon pages. Thanks!
Ladybrasa (talk) 00:14, January 23, 2016 (UTC)ladybrasa
Likw Magic!
Hello again :)
I see you edited the Vampire Ghouldreath page, and now it is showing up on the Dragon List Infobox. How did you do that?
Thanks!
Ladybrasa (talk) 00:53, January 28, 2016 (UTC)ladybrasa
The Endless Night preview
I got them off Amazon.CC-1990 (talk) 22:41, February 11, 2016 (UTC)
Threadtail Class
I find it very strange that they would not write something as important as it being a Strike class dragon in the actual post or in the dragons in-game description, but in stead in some 2 random persons reply comments. Not to mention this dragon doesent look anything like or have anything in common with other Strike Class dragons. Just by its appearance and abilities it seems to be more fitting to be in the Stoker or Sharp class, maybe even Mystery. There are 2 other sources to find out though, the Rise of Berk wiki and SoD, the latter is very unlikely to ever be fixed and happen so the best option is to wait until the Rise of Berk wiki creates a page, then we will for sure find out wether this dragon is Strike class or not.
I think the Threadtail might fit in to the Mystery Class, because not much is known of how it can secrete poison from its skin.NarendraMartosudarmo (talk) 21:15, February 16, 2016 (UTC)
Add my edit now! It makes perfe t sense! You have 10 minutes - then I go to the Threadtail page and bring my edit back!!! 
Editing pages with Tabs?
Hello again and sorry to bother you. I'm getting a little closer to finishing with updates to the individual Book dragon species pages. A number of them that are seen in both the Books and the Franchise have the tabbed pages, and I haven't yet figured out how to edit the Book tab for each dragon. If you have a sec, could you let me know how to do that?
Thanks!
Ladybrasa (talk) 04:12, February 26, 2016 (UTC)ladybrasa
Thank you SOO much!
Also, really noob question again about communicating with other members: I understand we use the talk pages. But are we supposed to write on a person's talk page, they respond on our talk page, and then we respond back on theirs? Or do we respond back and forth on the same talk page? Or is it just whatever or whichever way works? Sorry if I'm over thinking it ...
Oh, also if you didn't see yet on the SOD forum - the Shovelhelm is listed as a Boulder class in game. I have an egg incubating and looked at the info from my viking's info page. Hope it helps!