Whispering Death Island is a location searchable by Toothless in the game, Dragons: Rise of Berk.
Geography
There is an image that appears on Hiccup's Race to the Edge Map. However, it is rather nondescript - brown with no indication of contour or vegetation. It does appear to have a number of coves or bays, with a very large circular bay on the Eastern side of the island.
Appearances
Games
January 22, 2016 until January 25, 2016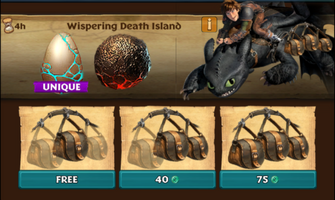 Other Appearances
Whispering Death Island does appear on the Interactive Map on the Dragons: Race To the Edge website. The island thus far is not featured in this TV series, however.
References

 Whispering Death Island on Hiccup Haddock III's Journal/Map.