Whispering Death Island is a location searchable by Toothless in the game, Dragons: Rise of Berk.
Geography
There is an image that appears on Hiccup's Race to the Edge Map. However, it is rather nondescript - brown with no indication of contour or vegetation. It does appear to have a number of coves or bays, with a very large circular bay on the Eastern side of the island that looks like a deformed hook.
Appearances
Games
January 22, 2016 until January 25, 2016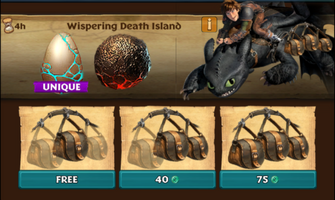 Other Appearances
Whispering Death Island does appear on the Interactive Map on the Dragons: Race to the Edge website. The island did not feature in this TV series, however.
References

 Whispering Death Island on Hiccup Haddock III's Journal/Map.