Wild Dragon Cliff is a location to search with Toothless in the game, Dragons: Rise of Berk. It first appeared in the Franchise, though, in the game Wild Skies.
Official Description
"Wild Dragon Cliff is an important spot on any new trainer's map. This is the first place where young dragons learn to fly, and young Vikings learn to ride. "
Geography
Wild Dragon Cliff features numerous steep cliff faces and vertical columns covered with greenery sitting on a lake. Water is channelled via a series of shallow waterfalls into the lake. It also has several jade green totem statues on in front of a little dark opening which leads to a well-lit cove.
Appearances
Games
Players can tame the Typhoomerang at Wild Dragon Cliff in this game and harvest Fire Weed and Scented Flowers.
Unlocked at Level 22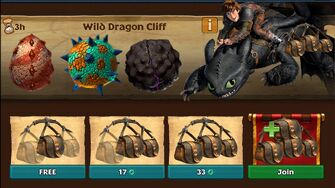 Gallery
References