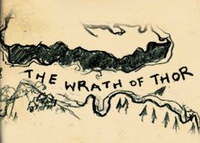 The Wrath of Thor[1] is a gap between Hysteria and the Mountain of Villany where 15 years ago (or more), Big Job, Norbert the Nutjob's father, was attacked by the Doomfang and frozen by his son. It is know to freeze during winter which connects Hysteria with Mount Villany.
References
Ad blocker interference detected!
Wikia is a free-to-use site that makes money from advertising. We have a modified experience for viewers using ad blockers

Wikia is not accessible if you've made further modifications. Remove the custom ad blocker rule(s) and the page will load as expected.